1815 Thomas Jefferson Letter on Restocking his Monticello Library at Raab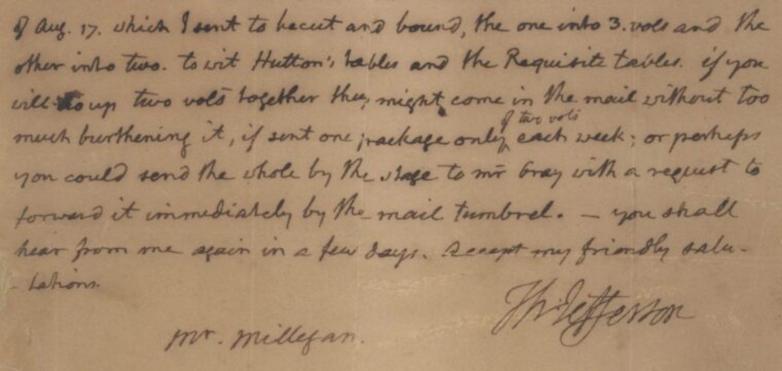 Raab Collection
The Raab Collection has acquired a Thomas Jefferson document of interest to bibliophiles everywhere: not only is it an autograph letter signed by Jefferson in which the third president orders books for his legendary library at Monticello, but the location of this original letter had been unknown to scholars. Long held by private collectors, the letter turned up at a small estate sale.
Written just months after he famously told John Adams "I cannot live without books",  Jefferson begins the process of restocking his library shelves after the sale of his first library to the Library of Congress.
The transfer of Jefferson's book collection to Washington D.C., which had been in process for months, was completed by July of 1815. Jefferson was already working to rebuild a new library, sometimes called his 'second library,' or his 'retirement library,' through a correspondence with his longtime Georgetown bookseller, Joseph Milligan.
On August 11, 1815, for example, he requested "Pike's arithmetic, Moore's Greek grammar translated by Ewen, Schrevelius's Lexicon the latest & best edition, and the 8vo abridgment of Ainsworth's dictionary." Later that month, he mentions an unusually bound volume of Aesop that has gone missing in the most recent shipment.
On October 5, Jefferson wrote the letter that Raab is now offering for sale, a physical representation of his love of reading and passion for books. He mentioned "early vols of Wilson," likely John Wilson, author of A Volume for all Libraries…Being a System of Philological Entertainments, Comprising Altogether an Extensive Ground Work for Immense Improvements in the English Language, which Jefferson is known to have owned. He also placed an order for Mathematical Tables by Charles Hutton, published as a set in 1804, and Complete Set of Nautical Tables, Containing All That Are Requisite to Be Used, published in 1806. 
While the content of the letter has been known via a polygraph copy, the location of the original had been unlisted and assumed lost, until now.    
The ongoing correspondence with Milligan, and other booksellers, demonstrates the care with which Jefferson repopulated his second library. We know that he also purchased, for example, John Marshall's Life of Washington, and according to researchers at Monticello, this library contained texts by Tacitus, Thucydides, Shakespeare, and Cervantes, as well as Isaac Newton's Principia.
Jefferson continued to collect books until his death in 1826, amassing about 1,600 volumes, which he had intended as a bequest to the University of Virginia. Sadly, Jefferson died in debt, and his second library was dispersed at auction.