16th-Century Folio from Persia's "Book of Kings" Sells for $9.1 million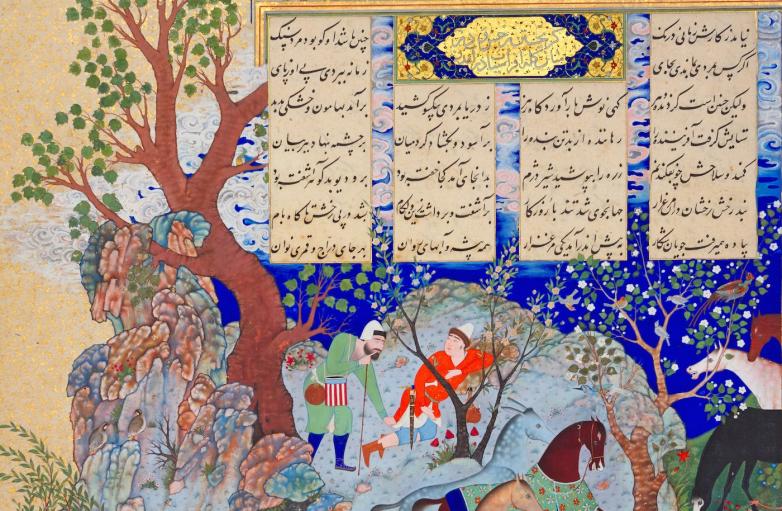 Courtesy of Sotheby's
London - In a rare appearance at auction, a magnificent folio from the Shah Tahmasp Shahnameh has sold for £8,061,700 / $9,091,179. The manuscript set a new record in GBP for any Islamic object or work on paper at auction, surpassing the previous record set by another leaf from the same manuscript at Sotheby's in 2011. The previous record for an Islamic Work on Paper at auction was set for another illustrated folio from the Shahnameh of Shah Tahmasp, which sold from the collection of renowned scholar Stuart Cary Welch at Sotheby's in 2011, making £7,433,250 ($12,153,364).
The scene depicts the great hero Rustam recovering his horse Rakhsh – named the Persian word for lightning – two of the main figures over the course of the tale. The manuscript boasts a glittering provenance from the moment it was commissioned, to the present day. It was commissioned by one emperor, Shah Ismail (the first of the Safavids), completed by another, his son and successor Shah Tahmasp, gifted to a third, Sultan Selim II of the Ottoman Empire, and was later owned by one of the great bibliophilic families of the modern era, the Barons de Rothschild, whose collections included such masterpieces as the Belles Heures of the Duc de Berry and the Hours of Catherine of Cleves. Today, folios from the Shahnameh are treasured in museum collections internationally, including New York's Metropolitan Museum of Art, the Smithsonian Institution in Washington D.C., the Aga Khan Museum Collection, the Museum of Islamic Art, Doha, and the Museum of Contemporary Art, Tehran.
"The Shahnameh of Shah Tahmasp is universally acknowledged as one of the supreme illustrated manuscripts of any period or culture and ranking among the greatest works of art in the world. It is testament to the sheer artistic skill, patronage and beauty that two folios from the same legendary manuscript now hold the top two highest prices for any Islamic work on paper, with a new auction record set." --Benedict Carter, Head of Department, Sotheby's Islamic & Indian Art
The "Arts of The Islamic World & India" totalled £13,922,327, as part of Sotheby's Islamic, South Asian & Middle Eastern Week in London. The sale also saw a monumental leaf from one of the largest Kufic Qur'ans of the eighth century sell for £819,000, and a monumental cast and engraved bronze multiple-wick oil lamp from 11th century Andalusia bring £1,608,000.