Penguin Books Installs Book Vending Machine at Train Station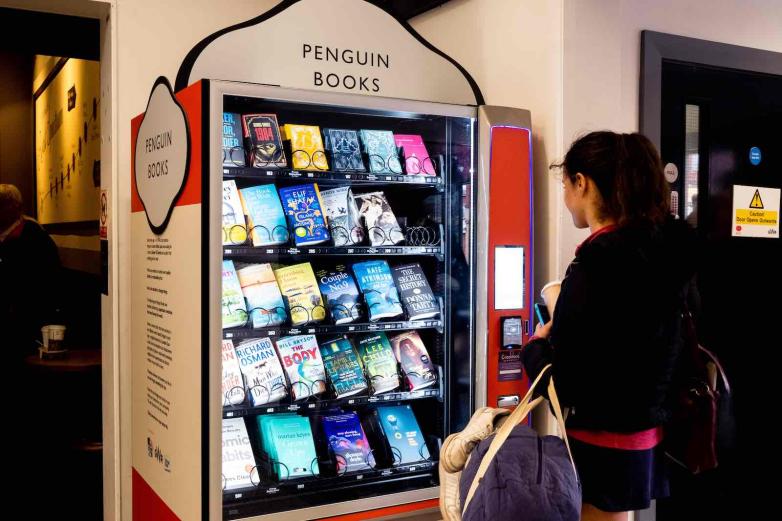 Yudi Wu/GWR
A book vending machine has been installed at Exeter St Davids thanks to a new partnership between Penguin Books in England, Exeter UNESCO City of Literature and Great Western Railway.
Supplied by Southwest-based vending machine company Graddon Vending, the machine sits in the entrance to Exeter St Davids, allowing passengers travelling through Exeter to purchase a wide range of Penguin Books, including contemporary and classic titles.
Titles will change on a regular basis, featuring new releases and perennial favourites, as well as marking key moments throughout the year, such as LGBTQIA+ History Month, Black History Month, and COP28.
The simple act of walking through a train station and picking up a good book to enjoy on your journey forms the foundations of Penguin Books itself. In 1934 Sir Allen Lane was waiting at Exeter St Davids train station and couldn't find a good book to read; only magazines or reprints of Victorian novels. Right there and then he decided that high quality, engaging and reasonably priced books should be available to everyone, anywhere. The following year saw history made with the birth of the paperback as Penguin Books released their first ten titles.
With the Penguin Books vending machine, commuters can easily pick up an affordable and high-quality book to enjoy on their journey, just as Allen Lane envisaged. It is a celebration of what is at the core of Penguin Books: engaging and absorbing books for anyone to read, wherever they go.
Profits from the vending machine will support Bookbag, a popular local independent bookstore, and Exeter City of Literature, who promote literacy and celebrate books in the local area.
Anna Cohn Orchard, Executive Director of Exeter UNESCO City of Literature, knew of Penguin's history and approached the publisher in 2021 with the idea for a book vending machine at the site of Penguin's origin.
"I grew up in Exeter," she said, "but didn't learn about Penguin's history until, ironically, I was working in publishing in New York. When I took on my current role, I knew I wanted to promote Exeter and Devon's interesting, and often hidden, literary history to a much wider audience. This incredible invention, made possible by Penguin's enthusiastic support and the work of a local vending machine company, will not only make reading more accessible to everyone who steps foot on to Exeter St Davids, but it will shine a light on how Devon has inspired so many great figures in the literary world."
Zainab Juma, Head of Brand at Penguin, says: "When Exeter City of Literature approached us about the Penguin Books vending machine, we knew immediately that it was the perfect way to celebrate our origins. Whiling away your time with a book is one of the great pleasures of train travel and this machine is just what our founder Allen Lane would have wanted to see as he set off on his journey. We're especially pleased that the vending machine will benefit Bookbag, a local independent bookstore, and Exeter City of Literature who do brilliant work celebrating Exeter's literary history and making books and reading more accessible in the local community."
Amanda Burns, Director of Sales & Marketing for GWR, said: "We are proud of our long affiliation with Penguin Books, which dates back nearly 90 years. This book vending machine is a wonderful addition to Exeter St Davids station and is already proving popular with customers. Many of us love a good book to read on a relaxing railway journey to an iconic destination and this installation means you can pick up a Penguin Book just before you travel."