News
|
September 26, 2023
Folio Society Releases Limited Edition of Shakespeare's Complete Plays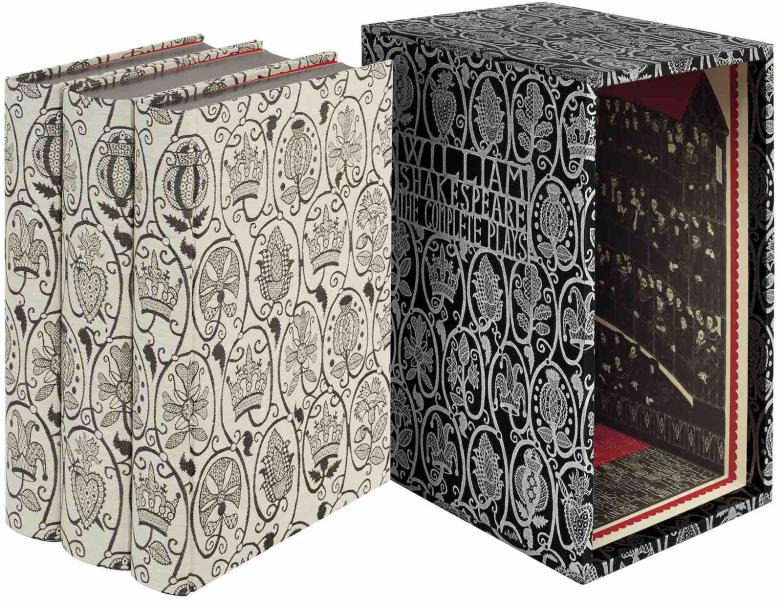 Folio Society
The Folio Society is marking this year's 400th anniversary of William Shakespeare's First Folio by today publishing a landmark edition of The Complete Plays in what it describes as the "most ambitious limited edition in the company's 75-year history". 
  
The Folio Society's editorial team has worked in close collaboration with Shakespeare expert Professor Ann Thompson, one of the General Editors of the Arden Shakespeare series, to create a definitive new edition of Shakespeare's plays which includes works from the First Folio and two plays originally omitted from the 1623 First Folio, Pericles and The Two Noble Kinsmen. The limited edition also features a foreword by actor Dame Judi Dench and an introduction from Gregory Doran, Artistic Director Emeritus of the Royal Shakespeare Company.
Published in three volumes - Comedies, Tragedies, and Histories - the edition is limited to 1,000 sets, each hand-numbered and signed by illustrator Neil Packer who has created 39 new illustrations and designed the bindings, inspired by Elizabethan blackwork embroidery. These have been replicated in silk and linen jacquard cloth woven by 300-year-old family business Stephen Walters & Sons, the oldest silk-weaving company in Britain and which recently created Queen Camilla's Coronation robes.
"This edition is a celebration and a homage to the 1623 First Folio and although it is in no way a facsimile of that edition, we did want it to look and literally feel like it is a direct successor," said Packer. "I was keen to tie the images to the 'theatre' rather than 'real world' and so I have tried to inject an element of toy theatre into them. You could almost imagine the figures depicted as tiny cardboard cutouts in a miniature theatre."
Typeset in Caslon and printed throughout in black and red inks, the bindery at Smith Settle, Yorkshire, has spent months handbinding each volume, using traditional techniques. In addition, the limitation certificate has been set in hot metal and printed letterpress by Stan Lane, a master artisan typesetter and printer, in his studio in Gloucestershire.
Tom Walker, Publishing Director at The Folio Society, said: "This is a thrilling example of contemporary bookmaking at its very finest: using the most traditional of production techniques at the same time as designing and crafting an edition which is exquisitely modern and made to last for generations." 
The Complete Plays are $1,500 each and available exclusively from The Folio Society.