Washington Irving's Final Published Manuscript Goes on Sale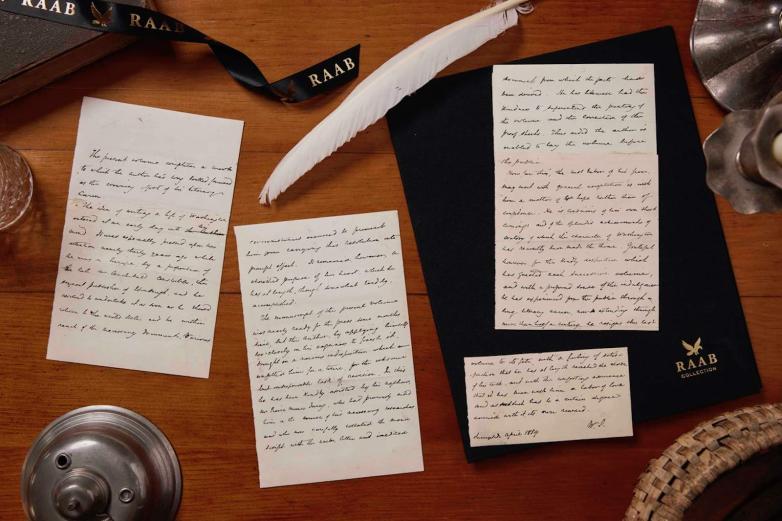 The Raab Collection
In the month so closely linked to America's first professional author, Washington Irving, The Raab Collection has announced that it is selling two rare autograph manuscripts from Irving's defining biography of George Washington, published in five volumes between 1855 and 1859. 
Long held in a private collection, the two complete and signed sections from volumes 4 and 5 are valued at $40,000 and $65,000 respectively. 
Washington Irving was born in New York in 1783 and named for George Washington, the Revolutionary War hero who would soon be president. As a young man, Irving launched a literary career in post-Revolutionary America, and in doing so, helped to originate what would become American literature. 
In 1809, he published A History of New York … by Diedrich Knickerbocker, a comic account of the Dutch founding of New York. He is also the author of The Sketch Book of Geoffrey Crayon, which includes the classic tales The Legend of Sleepy Hollow and Rip Van Winkle. Many other books followed, perhaps most importantly his five-volume Life of Washington. 
One of the two manuscripts for sale is the complete, five-page conclusion to volume 4 of the Life, signed and dated by Irving in 1857. "In the volumes here concluded, we have endeavored to narrate faithfully the career of Washington from childhood." 
The man who would become known as the Founding Father of American Literature seemed destined to write Washington's biography, a work he considered the culmination of his career. He spent his final decade at Sunnyside, his New York estate, researching and writing the Life of George Washington. It was the defining biography of the man, and of the genre. 
The second manuscript, from 1859, is the four-page preface to volume 5, written in the form of a letter, signed and dated by Irving, after he had completed the final text. It was his last piece of published writing, and, as he described it, "the crowning effort" of a long and successful literary career.