Unseen Photographs of Future King Sold for £10,625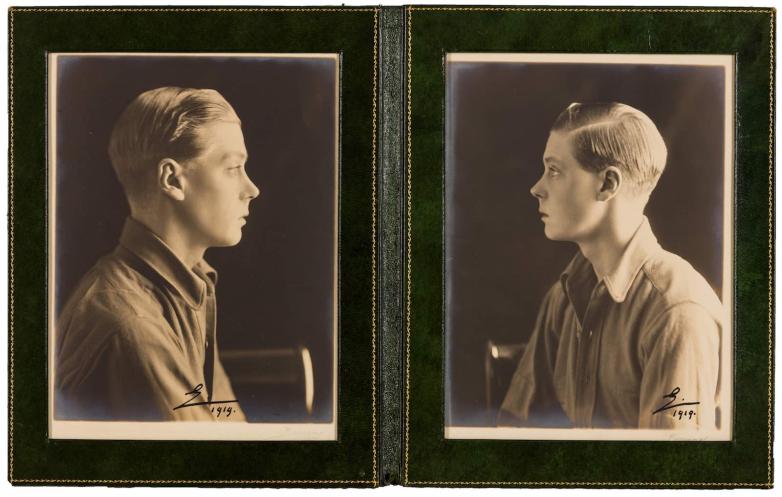 Chiswick Auctions
A possibly unique pair of portrait photographs of the young Edward VIII when Prince of Wales has sold at Chiswick Auctions for £10,625. The buyer was a private collector based in America.   
It was thought they were once owned by the English socialite Freda Dudley Ward, who had a long affair with the then Prince of Wales before he met Thelma Furness and then Wallace Simpson. 
The photographs, signed by the Bassano studio of London with photographer's pencil marks along the margins, show the prince in mirror-like head and shoulders profile poses. Each image is signed and dated E.1919 on the front and David, Aug 1919 on the verso. 
These apparently unique prints were consigned for sale as part of an auction of Autographs and Memorabilia by a vendor whose grandmother was Freda Dudley Ward's personal maid in the 1920s. They were offered together with a full-length photograph of Freda Dudley Ward (1894-1983) holding her two Yorkshire terriers with an estimate of £1,000 - £1,500. 
"These are both unique and very attractive prints of the prince and they have never been on market before" said Chiswick Auctions head of sale Valentina Borghi. 
Although she married Dudley Ward in 1913, Freda had a relationship with Edward from 1918 until 1929. She was supplanted in his affections, first by Thelma Furness (1904-70) and then by Wallis Simpson.