News
|
September 20, 2023
Rare Book Specialist Ken Gloss on 'Improbable Finds' at the Grolier Club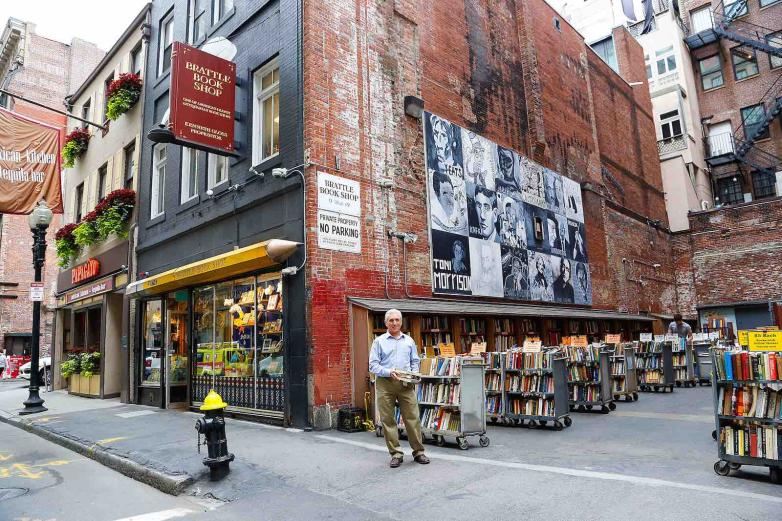 Jeffrey Dunn
Kenneth Gloss, who runs the Brattle Book Shop in Boston, will speak at New York's Grolier Club to talk about the 'improbable finds' of his decades-long career in an in-person and virtual presentation on October 5 which is open to the public.
 
His upcoming talk will cover spectacular finds such as T. S. Eliot's copy of The Great Gatsby and Isaac Newton's copy of Principia Mathematica. On one particular occasion Ken remembers that, "a customer walked into the Brattle Book Shop with a Nuremberg Chronicle and a Kelmscott Chaucer!"  Among the unexpected challenges he's come up against was being invited to look at "about 500" books, but instead encountering three floors of more than 20,000 nearly perfect dust-jacketed books.
The unusual and the extraordinary will abound in this illustrated lecture.  Ken will talk in part about the history of his historic bookshop which goes back to circa 1825. He is a second-generation owner ("I found that books were in my blood and that I would never be really happy if I abandoned the business") and will discuss growing up in the book business, explaining how he appraises books and manuscripts, talk about private and institutional collecting, and look at guidelines for building and maintaining a significant collection. There will be a Q&A session at the conclusion of his talk. 

To register for the in-person event, click here. To register for the virtual event, please click here. Grolier Club members should register themselves and their guests via the club website and not on Eventbrite.