PEN International and English PEN Digital Resources Now Online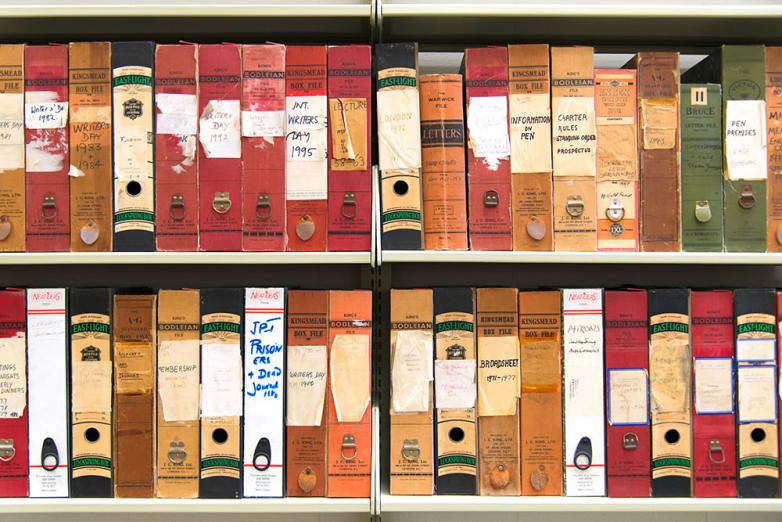 Photograph by Derek Rankins, 2019
Austin, Texas — Thousands of digitized records reflecting major historical events of the 20th century related to PEN International, a global writers' organization, are available online beginning this month. A project funded by the National Endowment for the Humanities (NEH) and completed by the Harry Ransom Center at The University of Texas at Austin has resulted in a new online finding aid for researchers, as well as access to teaching guides and nearly 5,000 digitized records.
PEN, an acronym for Poets, Playwrights, Editors, Essayists and Novelists, has member centers in more than 100 countries. Founded in London in 1921 by Catherine Amy Dawson Scott, PEN began as a simple dinner club meant to bring writers together to socialize and share ideas. Later, it evolved into an international advocacy group for human rights and freedom of expression as reflected in the opening words of its charter, "Literature knows no frontiers and must remain common currency among people in spite of political or international upheavals."
The NEH-funded project, "Writers Without Borders: Creating Global Access to the PEN International and English PEN Records," brought together multiple departments at the Ransom Center to arrange, describe, preserve and selectively digitize the records of PEN International and its predecessor, English PEN.
"This access initiative gives new meaning to PEN's founding charter that states literature knows no borders," Ransom Center Director Stephen Enniss said. "As a result of this project, the 100-year story of PEN's advocacy on behalf of freedom of expression will be widely available to a global community of students and researchers."
In an effort to improve research accessibility, portions of the collection, including newsletters, minutes, reports, scrapbooks and ephemera were digitized and made available online Nov. 1, 2019, in the PEN Digital Collection.
The archive is particularly rich in correspondence with its writer-members around the world and in administrative records, photographs, press clippings and ephemera. The new online finding aid for the PEN records describes all materials in one cohesive inventory. The materials are open for research in the Center's Reading and Viewing Room.
An additional 900 images are available through online PEN Teaching Guides, which allow instructors and students to explore PEN's interactions with major political and historical issues. The guides engage with topics such as human rights, free speech, the experiences of political prisoners and refugees, and major global conflicts such as World War II and the Cold War.
According to PEN International President Jennifer Clement, PEN International and English PEN were founded to promote friendship and intellectual cooperation among writers and to emphasize the role of literature in developing mutual understanding and world culture. However, a major role of the organization, she said, is to fight for freedom of expression and to act as a powerful voice on behalf of writers harassed, imprisoned and sometimes killed for their views.
"Digital access to PEN's archive is essential for any past or future study on the global history of literature, human rights and freedom of expression," Clement said.
PEN's efforts to defend freedom of expression include aiding writers fleeing Nazi Germany; defending those blacklisted by the House Un-American Activities Committee; reckoning with the tension between religious freedom and freedom of speech in the crisis Salman Rushdie experienced in 1989; and advocating for writers facing imprisonment, deportation, and even death, such as Chinese writers and scholars imprisoned after the Tiananmen Square protests and an American poet at risk of deportation for her support of socialist ideas.
Numerous PEN members during the past century are authors whose work is represented in the archival holdings of the Ransom Center, including H. G. Wells, E. M. Forster, Radclyffe Hall, Storm Jameson, Thornton Wilder, Arthur Miller and J. M. Coetzee.
Acquired by the Ransom Center between 1968 and 2015, the archive occupies 362 boxes and contains materials from 1912 through 2008. These records document the history and activities of the English PEN Centre, PEN International and other PEN centers around the world, from social gatherings to organized protests and campaigns to literary awards. Access the digitized records and teaching guides online at ransom.center/PEN.