O'Keeffe-Owned Ram's Skull Offered at Bonhams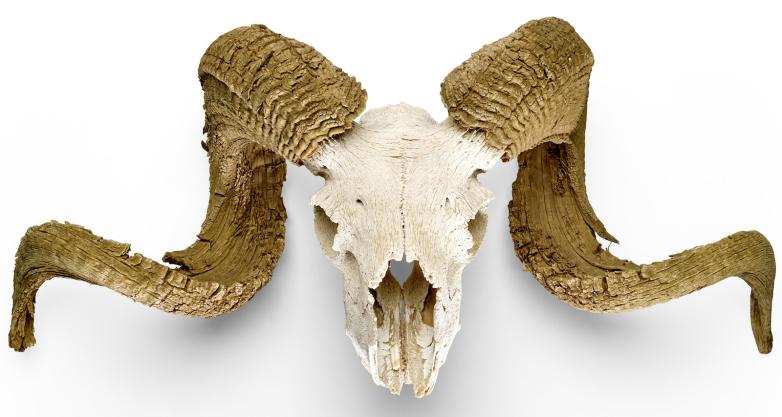 Courtesy of Bonhams
New York — The artist Georgia O'Keeffe – the mother of American Modernism – had a long love affair with New Mexico. From her very first visit in 1929, she was inspired by the landscape, the people, the flora and fauna to produce her most memorable work. Fascinated by the sun-bleached animal bones that littered the desert, she adopted the motif of a skull as the central element in many of her best-known paintings. One of O'Keeffe's ram skulls from Ghost Ranch, Abiquiu, her New Mexican home for nearly 40 years, features in Bonhams Books & Manuscripts online sale March 22nd – 30th. It is estimated at $5,000-7,000.
The ram's skull – one of many owned by the artist – can be seen in the context of O'Keeffe's 1935 work, Ram's Head, White Hollyhock-Hills, one of her best-known paintings and regarded as one of her most important. It not only represented the artist's return to painting after a period of ill health, but it also signaled a new maturity. Critics were quick to praise its mystical qualities and to appreciate it as an affirmation of personal and artistic rebirth.
The skull is part of a selection of material associated with O'Keeffe's life and work which belonged to artist Marilyn Thuma (also known as Mym Tuma). It includes an archive of 18 handwritten and typed letters from O'Keeffe to Thuma covering the years 1964-1973. Thuma had just graduated from Stanford University's painting program when she wrote to O'Keeffe out of the blue asking if she could visit. This started a ten-year friendship, reflected in these letters, during which O'Keeffe assumed the role of mentor offering Thuma artistic, emotional and financial advice and support. Estimate: $10,000-15,000.
The Thuma archive also offers personal items of particular significance to O'Keeffe, including a seersucker blue wrap dress, one of several made by O'Keeffe's personal seamstress, modelled on a design by Neiman Marcus. The wrap dress became a personal signifier for the artist. This example was given to Marilyn Thuma in July 1969, as recorded in her diary. The first of O'Keeffe's wrap dresses to appear at auction, it is estimated at $3,000-5,000.
Bonhams Director of Books and Manuscripts Catherine Williamson said: "New Mexico where O'Keeffe settled permanently was a source of endless inspiration to the artist. The ram's skull from O'Keeffe collection is not only a wonderful example of the Southwestern iconography represented throughout the artist's body of work, but it is also a truly special piece of American art history, imbued with the spirit of arguably the most influential woman artist of the 20th Century."
 
Widely celebrated for her iconic paintings of the Southwestern United States, Georgia O'Keeffe is an established figure in the canon of American art history and has left a legacy that continues to inspire generations of women. She currently holds the world record for highest price at auction for female artist at $44.4 million.
 
In 1929, O'Keeffe began spending a portion of each year in New Mexico and she relocated there full-time following the death of her husband, the photographer Alfred Stieglitz, in 1946. Once in the Southwest, her artistic practice made a palpable shift, largely informed by her desert surroundings. Animal skulls became a pervasive subject within her work. One example, Cow's Skull: Red, White, and Blue (1931), now belongs to the permanent collection of the Metropolitan Museum of Art.