New Photobook Documents the Notorious Burning Man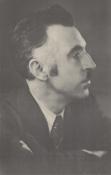 Smallworks Press, an independent publishing company specializing in limited edition, exquisitely-printed books focusing on contemporary art and culture, has announced it is producing and distributing the highly-anticipated Compass of the Ephemeral: Aerial Photography of Black Rock City through the Lens of Will Roger, the first book of aerial and drone photography by cultural co-founder of Burning Man, Will Roger.
Compass of the Ephemeral includes a collection of Will Roger's photographs chronicling the ever-changing cityscape and transformation of Black Rock City, home to Burning Man and one of the harshest climates in the continental U.S. The book traces the history and transition of Black Rock City from a few thousand people in the late 1990s to the growing metropolis required to support over 70,000 citizens today.
As the first Director of Operations of the Burning Man event,Will Roger worked alongside the other five founding board members and all others involved to ensure that Black Rock City becomes a reality each year and then vanishes without a trace. He was instrumental in creating numerous foundations for the event, including: established the Department of Public Works (DPW), a workforce of volunteers dedicated to building and deconstructing the physical infrastructure of Black Rock City; actualized an FAA approved airport, and conceived traditions such as the Gold Spike Ceremony, a pre-event commemoration for the builders of Black Rock City, as the first stake is placed in the ground to survey and build the future city.
Roger says: "Burning Man is a blank canvas for people to come and create on. Burning Man creates a human empathy, then serendipity and creativity happens. Burning Man is the real world; everything else is the default world. People come away with changed lives and a changed culture because at Burning Man, everyone is human . . . there is no class, no color. You become family: human family, world family, global family."
Compass of the Ephemeral also includes interpretive essays by William L. Fox, director of the Nevada Museum of Art's Center for Art + Environment; Alexei Vranich, American archeologist at the University of California, Berkley; Tony "Coyote" Perez-Banuet, city superintendent of Black Rock City; Crimson Rose, cultural co-founder of Burning Man; and an introduction by Harley K. DuBois, cultural co-founder of Burning Man. Each essay explores the physical, cultural and artistic context and impact of the Burning Man event.
A preview of the book will take place at the Nevada Museum of Art on May 23, 2019, from 6:00 p.m. to 8:00 p.m. in Reno, Nevada. Will Roger,William L. Fox and Crimson Rose will discuss aspects of the book with the panel moderated by Smallworks Press publisher, James Stanford.
Stanford comments, "I could not be more delighted that Will Roger chose Smallworks Press as his official publisher. Since 2006, Smallworks Press has been producing exceptional visual and interpretive works that reflect the interconnectivity of art and community, a vision that Roger has made tangible each year for the past 14 years, by visually documenting the uniqueness of Burning Man and Black Rock City and by his involvement and contributions to the Burning Man culture and infrastructure." The book is scheduled for release June 18, 2019.
About Smallworks Press
Founded in 2006, Smallworks Press specializes in arts and culture publications and treats each book with a commitment to impeccable production, design and marketing. With more than 100 years of collective experience, the Smallworks Press team has enjoyed collaborating with a wide-spectrum of artists, authors and talent to create works with beautiful chromatic illustrations and stimulating interpretation with the finest print quality. Smallworks Press has international fulfillment through IPG and Gazelle, subsidiaries of Ingram Content Group.
For information, visit www.smallworkspress.com, email info@smallworkspress.com or call 702-577-6592.
Image: Compass of the Ephemeral: Aerial Photography of Black Rock City through the Lens of Will Roger, the first book of aerial and drone photography by cultural co-founder of Burning Man, Will Roger