New Peter Harrington Catalogue Celebrates Ulysses & Modernist Masterpieces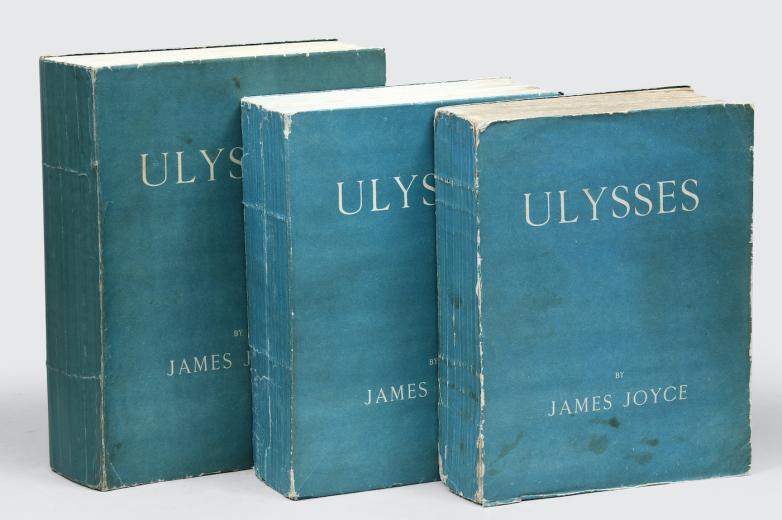 Courtesy of Peter Harrington
London — James Joyce's Ulysses was published at Sylvia Beach's Paris bookshop Shakespeare & Co, on 2nd February 1922. A hundred years on, the book is still fascinating and maddening readers around the world, often hailed as a "demonstration and summation" of the entire modernist movement.
 
Leading London rare book dealer Peter Harrington celebrates the centenary of its publication with its new catalogue entitled Inexhaustible Life: A Modernist Centenary which features 100 landmark works written in the interwar years, a period of intense literary creativity, including several published in 1922.
 
"Edmund Wilson, in his 1931 appraisal of the modernist movement Axel's Castle, already understood that with Ulysses Joyce had created something for all time: 'The world of Ulysses is animated by a complex inexhaustible life: we revisit it as we do a city… And when we reread it, we start in at any point, as if it were indeed something solid like a city which actually existed in space and which could be entered in any direction'. Though it may exhaust some readers, the text itself remains inexhaustible. We keep returning to Ulysses because, like all great works of literature, it abides as a source of ever renewable energy," says Sammy Jay, Literature Specialist at Peter Harrington who curated this catalogue.
Ulysses was published in imitation of the traditional three-tiered French format aimed at both connoisseurs and readers: 100 signed copies on Dutch handmade paper; 150 copies printed on heavier vergé d'Arches to create a large paper format, and the remaining 750 copies on vergé à barbes forming the smaller trade issue.
 
Peter Harrington's new catalogue features not one but three first editions of Ulysses, one of each issue, including the coveted 100 signed by Joyce, all in the original blue wrappers. Presenting all three together is a feat seldom achieved in the trade.
 
Other catalogue highlights include Joyce's earliest obtainable publication, "The Day of the Rabblement", an article printed while still a student in Dublin, as well as two significant translations of Ulysses: the French in a copy inscribed by Joyce to his favourite tenor John O'Sullivan, and an early Japanese translation, inscribed by the translator Ito Sei.
 
"In addition to Joyce's landmark novel, this catalogue also takes the centenary as an opportunity to celebrate the remarkable number of other modernist masterpieces that were published or written in the literary annus mirabilis that was 1922," adds Jay.
 
"The creative explosion between the wars certainly had Paris as its hotspot, featuring extraordinary characters like the "amazon" salonniere Natalie Clifford Barney or the wild Harry and Caresse Crosby of the Black Sun Press. Further bold expatriate publishers were Robert McAlmon of Contact Editions, and of course Sylvia Beach of Shakespeare & Co. The catalogue includes many exceptional items that celebrate the centrality of Paris in the history of modern literature, but also acknowledges the literary breakthroughs and experiments going on around the world, from Bulgakov in Russia, or Cavafy in Alexandria, to Borges and Lorca in South America" concludes Jay.