News
|
September 13, 2023
New Exhibition on Bloomsbury Group and Fashion Opens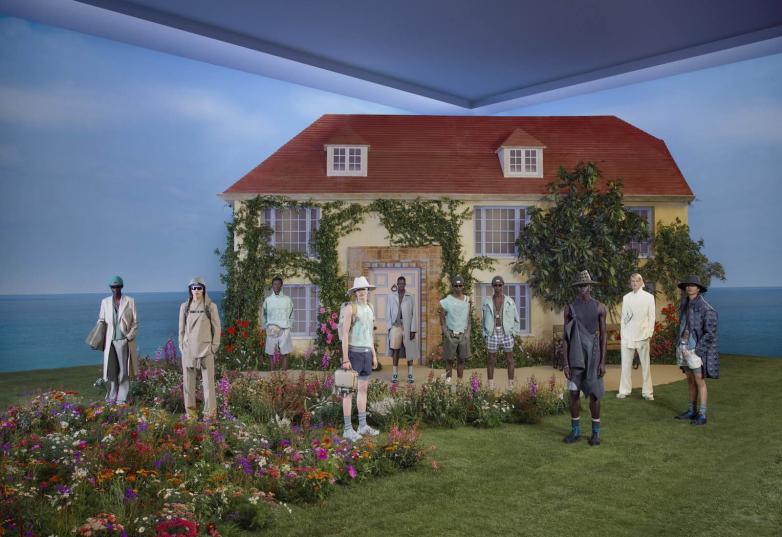 © Brett Lloyd/Charleston
Bring No Clothes: Bloomsbury and Fashion, which opens today, is the first major exhibition to explore the fashion of the Bloomsbury group, and how the 20th century cultural collective still impacts global style more than 100 years later. 
Curated by writer Charlie Porter, the inaugural exhibition at Charleston in Lewes, East Sussex, spotlights the relationship that radical figures such as Virginia Woolf, Duncan Grant, and Vanessa Bell had with clothing, while celebrating 21st century fashion designers who have found inspiration in Bloomsbury art and life.
Highlights include personal items exhibited for the first time including:
necklaces worn by Woolf and Bell in an iconic 1896 photograph with their sister Stella Duckworth
looks from the wardrobe of Bloomsbury patron Lady Ottoline Morrell
a bag, hand-embroidered by Vanessa Bell, which belonged to Virginia Woolf
a first edition of Woolf's 1928 novel Orlando, inscribed to her then lover Vita Sackville-West
the manuscript for a pioneering essay from 1888 by the painter and critic Roger Fry, Shall we wear top hats?
Bring No Clothes: Bloomsbury and Fashion in Charleston's large new gallery space uses original garments, archival objects, paintings, photography, manuscripts and spoken word to examine how the Bloomsbury group explored a liberated sexuality, feminism, queerness and pacifism, helping to set the foundations for how we dress today. The title comes from a letter by Virginia Woolf to T.S. Eliot in 1920, inviting him to stay: "Please bring no clothes: we live in a state of utmost simplicity." 
Fashion from contemporary designers, including designs by Kim Jones from his Fendi Spring-Summer 2021 Women's show inspired by Virginia Woolf, and from his Dior Spring-Summer 2023 Men's collection inspired by Duncan Grant, will be woven through the exhibition. The legacy of the group will be explored in designs by Erdem, Christopher Bailey for Burberry, and Comme des Garçons pieces on the theme of Woolf's Orlando, designed by Rei Kawakubo for the catwalk and the Vienna Opera House. Meanwhile, Charleston itself will be seen as a fashion source, with a series of photographs by Tim Walker for Italian Vogue, shot in and around the house.
The exhibition will also highlight a new generation of designers including: 
LVMH Prize winner S.S. Daley, who takes inspiration from the characters created by E.M. Forster
Jawara Alleyne, who will install a new work modelled on Vanessa Bell's use of safety pins in her dressing
Ella Boucht, who uses tailoring to reimagine gender
There will also be a focus on the role of fashion in Bloomsbury portraiture, particularly mid-20th century works by Bell and Grant, many previously unseen, and an examination of the queer coding of clothes in Grant's portraits.
Charlie Porter said: "The Bloomsbury group engaged with fashion in dynamic ways, from philosophical thinking to radical dressing. Bring No Clothes uses garments to shed new light on their lives, as well as bring insight into how we dress today. By mixing together the past with the present, I hope the show will encourage visitors to reconsider their future relationship with fashion."
A new book by Porter, Bring No Clothes: Bloomsbury and the Philosophy of Fashion, written during the research period of the exhibition, is published by Particular Books, an imprint of Penguin, coinciding with the opening of the show.
Nathaniel Hepburn, Director at Charleston, said: "It is exciting to launch Charleston's new building in central Lewes. In Bring No Clothes: Bloomsbury and Fashion, Charlie Porter takes a fresh angle that is bringing us new stories on the extraordinary lives of the Bloomsbury group members, showing again the continued relevance of their ideas to contemporary culture."