New Ben Franklin Letters "discovered" in London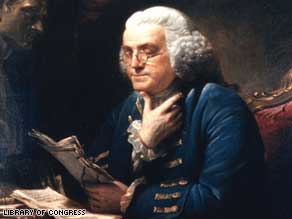 An American professor doing research in London stumbled across a series of previously unknown letters written by, to, and about Benjamin Franklin, a stunning find that sheds new light on early U.S. history.
The collection of 47 letters are hand-written copies made 250 years ago, when Franklin lived in London. That they were filed under the copyist's name, not Franklin's, may explain why they were overlooked by historians until now, said a curator at the British Library, where the letters are held.
Amazing when things like this appear from the ether....but to have 47 "new" letters fall from the sky is quite remarkable.