The Nelson-Atkins Museum of Art Acquires Early American Daguerreotypes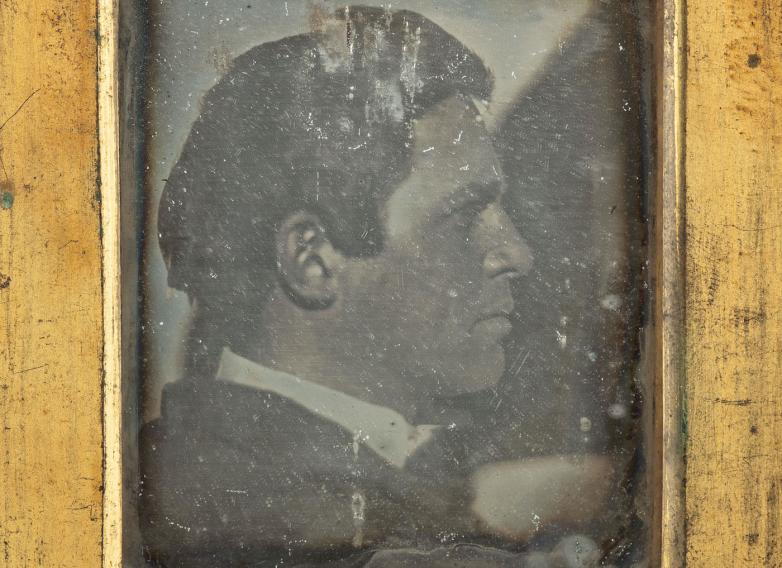 Courtesy of the Nelson-Atkins Museum of Art
Kansas City, MO – The Henry Fitz Jr. Archive of Photographic History, an extremely rare group of early daguerreotypes and related material from the family of pioneering practitioner Henry Fitz, was purchased at auction in Cincinnati on November 15. It includes what is believed to be one of the earliest daguerreotype portraits made in the U.S., as well as two paintings and other early photographic works.
"Since the transformative gift of the Hallmark Photographic Collection in 2005, the Nelson-Atkins has become a leader in the study and exhibition of photography," said Julián Zugazagoitia, Menefee D. and Mary Louise Blackwell CEO & Director of the Nelson-Atkins. "This acquisition demonstrates the museum's commitment to representing the history of photography both as it is developing today and in its earliest formations."
The archive includes 23 daguerreotypes and two oil paintings of Henry Fitz Jr. and his wife, Julia Wells Fitz. The most significant piece is a profile portrait of Henry Fitz Jr., which is believed to have been taken in January or February 1840 and is among the earliest daguerreotype portraits made in the United States. Other significant pieces include four slightly later portraits believed to be Fitz; a beautiful, early hand-colored portrait of his wife, Julia; and two to four portraits of Fitz's sister, Susan.
All the daguerreotypes are believed to have been produced between January 1840 and the fall of 1842, when Fitz operated a studio in Baltimore. This archive, along with a group of Fitz daguerreotypes acquired in the 1930s by the Smithsonian National Museum of American History, is the largest group of images produced by a single photographer from the pioneering era of photography in America (1839-1842).
Though curators at the Smithsonian knew of this archive's existence when they acquired their group, it was never located. Lost to history until 2019, when the descendants of George Fitz (Henry's son) rediscovered it in a workshop and studio in Peconic, New York, this new Fitz discovery is remarkable. Its contents represent the earliest successful photographic portraits and provide invaluable insights into the technical and aesthetic development of the medium in its first few years of existence.
"It's incredible that such a significant group of exceptionally early work survived intact and came to auction in 2021," said Senior Curator of Photography April M. Watson. "This acquisition adds an important facet to our extraordinary holding of daguerreotypes, building upon an unparalleled legacy of astute collection building in this area."
The importance of keeping this material together helped propel the acquisition. Adds Watson: "We felt as though we were able to preserve a small but important slice of history. We look forward to collaborating with other scholars and institutions, to expand our collective knowledge of Mr. Fitz, as well as this formative period in the medium's development.  It's all very exciting."
Henry Fitz Jr. (1808-1863) was an engineer, scientist, and inventor. His childhood interest in astronomy led him to study lenses, and he eventually invented a sophisticated refracting telescope, which he later manufactured. Fitz was also among the first to conduct experiments with the daguerreotype process. His knowledge of optics was integral to the development of the first patented American camera and the first photographic portrait studio in America.
Collaborating with Alexander S. Wolcott and John Johnson in late 1839 and in the first few months of 1840, Fitz sat for some of the earliest successful photographic portraits ever taken. In June of 1840 he was the first to establish a photographic studio in Baltimore, Maryland.
The Nelson-Atkins collection of more than 1,000 daguerreotypes is considered exceptional in its range and quality, and represents one of the most extensive holdings of American work in the world. The museum has striking examples of daguerreotypes from most of the key American practitioners in the first few decades of photography's inception, including an early self-portrait by New York-based Henry Insley dated ca. 1839-40, and a group of portraits by the Philadelphian-based Robert Cornelius, which date from ca. 1840-1843.  The Nelson-Atkins also owns a rare heliogravure (one of eight known prints, and one of only two housed in a U.S. institution) by Joseph Nicéphore Niépce, one of photography's early inventors, which dates to 1826 and is considered an historic achievement in the "pre-history" of the medium.
The museum previously had no known works by Henry Fitz; the acquisition of this important archive has greatly expanded Nelson-Atkins holdings in this vital, early period. Given the intersecting histories of optics, chemistry, and art that these works weave together, this archive also offers tremendous opportunities to partner with local schools and universities in an educational capacity. 
Displaying this acquisition is one of only a series of exciting initiatives Watson has planned in the next year.
"In 2022, we will also feature an exhibition of early work by American photographer Jim Dow (b. 1942), which focuses on roadside signage," said William Keyse Rudolph, Deputy Director, Curatorial Affairs. "It will be accompanied by a publication distributed by Yale University Press."