News
|
September 30, 2022
Keri Miki-Lani Schroeder Wins the 2022 MCBA Prize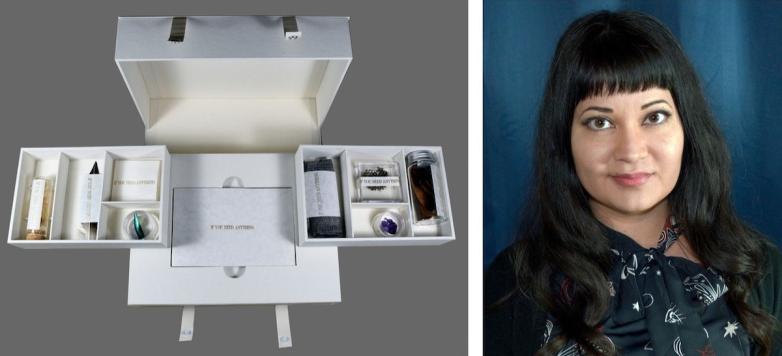 Courtesy of the Minnesota Center for Book Arts
Minneapolis, MN — Minnesota Center for Book Arts (MCBA) is pleased to announce that the winner of the 2022 MCBA Prize is San Antonio, Texas–based artist Keri Miki-Lani Schroeder for her artist's book, If You Need Anything. Writer and editor Megan N. Liberty selected If You Need Anything from 154 international submissions representing 17 countries. Schroeder's work, for which she will receive a $2,000 cash prize, is currently on view in MCBA's Main Gallery alongside four finalists and nineteen semi-finalists.
A book artist who teaches at various institutions, Schroeder produces limited-edition artist's books under the imprint of Coyote Bones Press. She also produces the Books in the Wild podcast and co-owns and designs enamel pins as The Paper Carnival. She holds an MFA in Book Art & Creative Writing from Mills College and worked as a studio assistant for Julie Chen at Flying Fish Press in Berkeley, CA, and as an edition bookbinder at BookLab II in San Marcos, TX. Her books are held in prominent collections including UC Berkeley, Bainbridge Island Museum of Art, Harvard, Stanford, RISD, and The British Library.
The concept for If You Need Anything grew out of a common phrase in American culture. "'If You Need Anything, please let me know' is a phrase often offered to people experiencing trauma. The irony being that after enduring a sudden traumatic event we often find ourselves lost in yearning, yet unable to pinpoint our specific need," writes Schroeder in her artist statement. "After experiencing an unexpected traumatic event last year, I created If You Need Anything as a way to initiate healing when I felt disconnected from my own self and needs."
The resulting artist's book consists of collected objects meticulously displayed and labeled in a compartmented box, along with a gold foil-stamped booklet filled with memories and the origin story behind each object. Schroeder says she's saved these sentimental objects over the years in case she ever needed them: beads from her great auntie's necklace, remnants from past projects, scraps of cloth from her grandmother's sewing kit.
"My hope is that this 'third aid kit' can be used to help navigate those moments in life that have a distinct before and after, to soothe the areas that physical and mental remedies cannot reach," Schroeder writes.
The winner was announced at the virtual MCBA Prize Reveal & Artist Talk on Friday, September 23, 2022. After the announcement, guests were treated to a participatory Q&A between Schroeder and Liberty, and then among our finalists and Elysa Voshell, MCBA's Executive Director. A recording of the event is available to watch below.
The MCBA Prize was founded in 2009 as the first honor to recognize contemporary book art from across the field and around the world. Finalists for the 2022 MCBA Prize each receive a $500 award:
Savannah Bustillo, The History of Language
Steven Daiber, My Brother's Keeper or so I thought
Erin Moore, Personal
Jacob Z. Wan, Secrettes
The 19 finalists, four finalists, and the winning work are all viewable in the Main Gallery at MCBA until Saturday, October 15, and online at mcbaprize.org. Additionally, all 154 international entries are viewable online.