Jonkers Rare Books Issues NY Book Fair Catalogue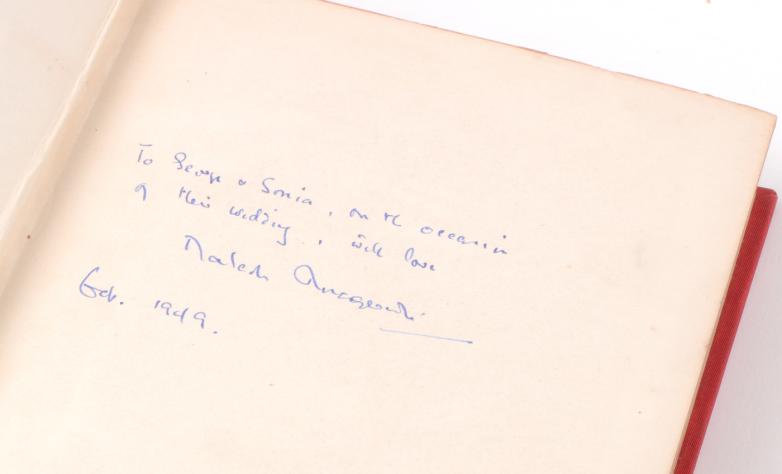 Courtesy of Jonkers Rare Books
Henley on Thames, Oxfordshire, England — Jonkers Rare Books are delighted to announce the publication of Fine Books & Manuscripts. The catalogue, and accompanying exhibition at the New York Antiquarian Book Fair, offers for sale the very best rare books, manuscripts and artwork acquired in recent months.
Arranged chronologically, it begins with the terrific Berland copy of the first edition of Gulliver's Travels, and includes highlights spanning the scope of the firm's interests, from Sun Tzu to Winnie The Pooh.
It includes fine copies of important books, such as the editio princeps of The Bhagavad Gita and a pristine copy of T. S. Eliot's The Waste Land.
There are books inscribed by Rupert Brooke, Ian Fleming and Sylvia Plath, and artwork by E. H. Shepard, Jessie M. King, and Horace J. Knowles.
A significant amount of manuscript material is also offered, including letters from Sylvia Plath to Ted Hughes, from E. H. Shepard to Pauline Baynes, and from Rudyard Kipling to Edmund Garrett.
Notable highlights include:
- The editio princeps of the Bhagavad Gita - a fine copy in contemporary tree calf, from the library of Warren Hasting's Private Secretary - £12,500.
- Percy Shelley's Queen Mab - unmutilated and in original boards, the Rosenbach-Berland copy - £60,000
- The earliest known Joseph Conrad first edition in a dustwrapper - The first edition of The Inheritors, his first collaboration with Ford Madox Ford - £30,000
- The archive of the Golden Age illustrator Horace J. Knowles, comprising over 1,200 original illustrations, as well as books from his library, sketchbooks and other materials - £135,000
- The first full translation of Sun Tzu's Art of War from the original Chinese - with extensive annotations by a contemporary scholar - £4,500
- A pristine first edition of T. S. Eliot's The Waste Land - with the book unopened, and the two dustwrappers beautifully well preserved - £125,000
- The elusive first edition of The Velveteen Rabbit, complete with the original dustwrapper - £22,500
- George Orwell's Wedding Present - the two volumes of Surtees given to him by Malcom Muggeridge on his deathbed wedding to Sonia Brownell - £9,500
- Forty-four letters sent by E. H. Shepard to Pauline Baynes - an intimate and revealing correspondence between two of the 20th century's great illustrators - £9,500
- An extraordinary autograph letter from Sylvia Plath to Ted Hughes - written over six tear-stained sides of letter paper, on being unable to live without him and begging a return to living together - £60,000