John McInnis Auctioneers Features Historic Documents, Books & Photographs from Kennedy Family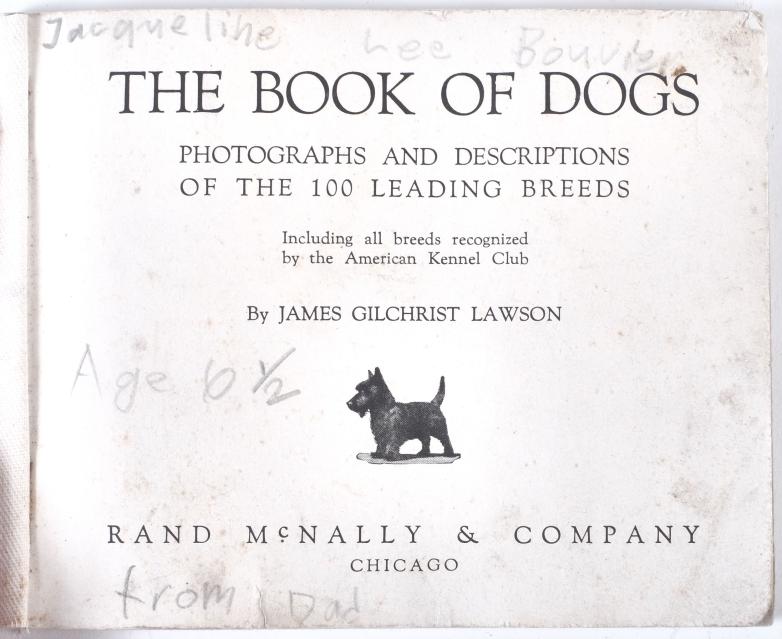 Courtesy of McInnis Auctioneers
Amesbury, Massachusetts — John McInnis Auctioneers, the largest full-service auction house on Boston's North Shore, is excited to announce its Camelot with a Twist Presidential And Sports event on October 13th, 2019, starting at 10am. All items from this sale are on display in the McInnis Amesbury, MA auction gallery and are available for preview on Saturday, October 12th from 11 am to 6 pm and October 13th from 8am throughout the sale.  All lots can be viewed on Liveauctioneers.com at https://www.liveauctioneers.com/catalog/150455_camelot-with-a-twist-presidential-and-sports/. For more information on this sale, see www.mcinnisauctions.com.
This auction launches with almost 300 lots of presidential-caliber materials from the Hammersmith Farm estate in Newport, RI. These items were bequeathed to Jackie's stepbrother Hugh "Yusha" Auchincloss' assistant, Colleen Townsend Pilat, upon his passing. Pilat partnered with her friend, award-winning Hollywood actor James Woods, to bring this "time capsule" to the public through John McInnis Auctioneers. Lots 1 through 280 are cataloged chronologically, providing a timeline on the legacy of the Auchincloss, Bouvier, and Kennedy clans though the passing of Yusha, the last family member to occupy Hammersmith Farm.
Treasures from first lady and fashion icon Jacqueline Kennedy Onassis' youth are certain to catch the eye of historians, museums, collectors, and connoisseurs worldwide. Lot #97, Jackie's childhood writing desk, is estimated at $2,500-5,000. This glass topped, Louis XIV French Provincial desk is decoratively painted and measures 30" x 48" x 27". Two personal diaries, written by Yusha, reveal in detail the privileged life he and Jackie lived as teenagers during WWII. These first person accounts, documenting every day happenings, coming of age moments, intimate confessions, and crushes that would last a lifetime, are a front row seat to history in the making… and ripe for screenplay adaptation! These diaries include lot #88, covering January 1, 1943 through September 30, 1945, and lot #89, covering October 1, 1945 through September 30, 1946. Each carries an auction estimate of $2,000-4000. And lot #69, Jackie's copy of The Book of Dogs given to her by her father John Vernou "Black Jack" Bouvier III, is estimated at $1,000-2,000. The book includes notations, made by Jackie at 6 ½ years old, highlighting her favorite breeds.
Important books from the family's personal library at Hammersmith Farm are well represented in this sale, with some including original autographs, dedications, notations, or illustrations. Lot #129, a JFK signed hardbound copy of The Complete Works of William Shakespeare published by Oxford University Press in 1955, is estimated at $3,000-6,000. President Kennedy was a student of Shakespeare and referenced his plays in speeches throughout his time in office. Lot #174, a 1937 copy of Holmes Alexander's Aaron Burr, the Proud Pretender, published by Harper & Brothers of New York, is estimated at $3,000-6,000. This handsome, hardcover book is signed by JFK on the flyleaf and includes its original Seal of the President of the United States John F. Kennedy bookplate. And lot #212, a Jackie Kennedy inscribed copy of Downing and Scully's The Architectural Heritage of Newport Rhode Island from 1967 is estimated at $2,000-4,000. The book is lovingly dedicated to Jackie's step-father Hugh on the occasion of his 70th birthday and embellished with a charming, original watercolor painting of flowers in Jackie's hand.
The Hammersmith Farm collection features astonishing photographs, many never having been published. Lot #91, an Auchincloss family picture album, is estimated at $2,500-5,000. This archive contains over 150 images with the initial 16 pages annotated by Jackie in her distinctive hand. Lot #92, the first known color photo of Jackie – taken in the Sunken Garden at Hammersmith Farm on July 28th, 1943 – is estimated at $2,000-4,000. This ethereal image shows Jackie on her 14th birthday smelling a flower. All rights for use are available with this photo. Lot #126, a collection of photos taken at Jack and Jackie's wedding reception at Hammersmith Farm, is estimated at $500-1,000. One breathtaking example in this collection is an unpublished, candid image of Jackie on the lawn during this celebration held on September 12, 1953. And lot #74, a collection of unpublished, playful photographs of Jackie Bouvier At The Chapin School – a private girls' academy in New York City – is estimated at $400-800.
The Hammersmith Farm collection portion of this sale rounds out with fine examples of decorative arts, memorabilia, and furniture. Lot #207, a side chair used by three generations of Auchincloss family members is estimated at $1,000-2,000. This chair was the most talked about furnishing at Hammersmith Farm. Janet Auchincloss Rutherfurd enjoyed retelling how John F. Kennedy, Jr. once had a bathroom accident at the dinner table on this chair. Although fully cleaned and sanitized, the resulting stain remains in the upholstery today.  
President Kennedy was lifetime sports fan and participant, and this sale includes several premier rarities that bridge his government and athletic interests. Lot #298, a baseball signed by JFK and members of the 1962 Detroit Tigers, is estimated at $10,000-20,000. The ball was autographed at D.C. Stadium on opening day, April 9, 1962. The President threw out the first pitch at this game, and subsequently gave this ball to his best friend and fellow sports enthusiast Dave Powers.
The range of sporting collectibles signed by some of the highest profile 20th century athletes offered through this sale is nothing short of a grand slam. Lot #312, a vault marked and signed Ted Williams bat, is estimated at $10,000-20,000. This lot includes a Ted Williams 35 inch "Louisville Slugger" baseball bat stamped W155 on end of handle and signed in ink on its opposite side, together with a Williams stat card autographed by Williams. This extraordinary offering is from the estate of Arthur McAvoy (1933-1982) a passionate baseball enthusiast, memorabilia collector, and fixture on the New England sports scene.  Lot #313, a Ted Williams signed baseball from 1958, is estimated at $1,000-2,000. Also from the McAvoy collection, this example has red stitching and is signed "To Ellen Best Wishes Ted Williams 1958." Lot #304, a Babe Ruth/Lou Gehrig autographed baseball, is estimated at $4,000-6,000. This fully provenanced rarity is accompanied by a letter of authenticity by James Spence Authentication. And lot #303, a Ty Cobb and author signed copy of The Light of Faith – written by poet Edgar A. Guest and published by  The Reilly & Lee Co. of Chicago in 1926 – is estimated at $500-$1,000.
The final third of this top-tier auction features items associated with the Kennedy family from the third quarter of the 20th century.  Much of this material has been consigned from the estates of people who were employed by the Kennedy family over time. These include Deirdre Henderson, who worked for JFK as both Senator and President, and Rosalie Helm, a personal and professional assistant to Edward Kennedy and his wife Joan during the 1960s and 1970s. Helm was an avid ephemera collector and was gifted her Kennedy materials directly from the family. Her archives, representing lots 450 through 597 in this sale, have been cataloged chronologically in order to tell the story of this legacy family in the most authentic way possible.  
The Helm collection features ephemera that provides a first-hand view into the family's professional duties. Key political materials include lot #453, JFK's 45 page manuscript for The Strategy of Peace - Senator John Kennedy's Views on America's World Policies, edited by Professor Allan Nevins. It is estimated at $2,500-5000. And lot #457, a Lucite box engraved with Too Beautiful To Use and 1960 Democratic National Convention given as a gift to Joan Kennedy, is estimated at $1,000-2,000. It became obvious that Joan would get more attention that JFK when campaigning with him; as such, after her West Virginia appearance the campaign was cautious to use her.
The Helm archive also offers a lighter perspective of the day to day happenings in the lives of the Kennedy family. Lot #596, a collection of doodles and drawings by Ted Kennedy, is estimated at $200-400.  These include renderings of sailboats, a compass, barns, a map of Oxford, and others, each in the Senator's hand and mostly on US Senate memorandum stationary. And lot #550, a handwritten note on US Senate memorandum paper from Ted Kennedy simply asking, "Rosalie - where is clicker for T.V." is estimated at $100-200. No one is immune to this common frustration!
This remarkable sale comes full circle with once-in-a-lifetime selections of Kennedy and Auchincloss family materials that span nearly a century. Lot #433, a portrait of Rosemary Kennedy as a young girl, is estimated at $2,000-4,000.  It pictures the oldest Kennedy daughter around age seven, wearing a pink dress and sitting on a bench, a pink rose at her feet. And lot #399, the original blueprints for John F. Kennedy's final resting place at Arlington National Cemetery, is estimated at $4,000-6,000. Dated April 1, 1965, these plans were drawn up by architects John Carl Warnecke and Associates; this was a significant project completed with the blessing of JFK's family after his burial in 1963.  
According to Dan Meader, who researched and curated this collection, "We were thrilled to work with Ms. Pilat and Mr. Woods, and our other consignors, to bring these breathtaking objects to market. McInnis has a long and successful tradition of selling extraordinary Kennedy merchandise - including JFK's bomber jacket in  for $655,500 and his padded rocking chair for $103,500 – so there is no doubt that the items presented here will also attract worldwide interest. It was a profound experience to handle the archives of unpublished Kennedy family photographs, letters, and diaries. These items hold enormous potential for new discoveries and stories, and may even re-write history. I can't wait to see what becomes of them."