News
|
September 22, 2023
Historic Franklin Expedition Photos Sold For £444,500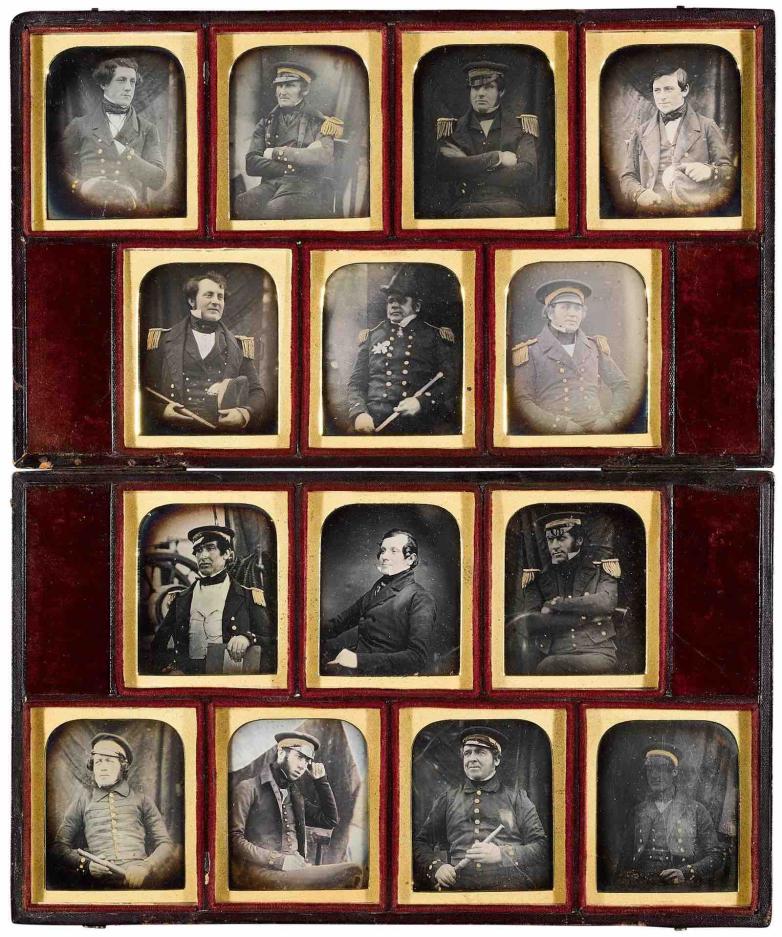 Sotheby's
A set of photographs of Sir John Franklin and his fellow senior officers of the ill- fated HMS Erebus and Terror – believed lost until now – has fetched £444,500 at Sotheby's Travel, Atlases, Maps & Photographs Sale. One of the most significant artifacts for the history of photography and polar exploration rediscovered in recent times, the photographs emerged from the direct descendants of the British Royal Navy officer and Arctic explorer.
Originally commissioned by Lady Jane Franklin, the images were taken by Richard Beard studio of Regent Street in London on May 15-17, 1845 en plein air, aboard HMS Erebus just three days before it was to set sail, never to return. Produced when photography was still in its infancy, these early daguerreotypes are the last photographs of 14 members of the expedition which the British sent to explore 500km of Arctic coastline to complete the charting of the Northwest Passage, a vital sea route between the Atlantic and Pacific oceans.
An invitation as expedition commander was extended to a 59-year-old Franklin alongside James Fitzjames as commander of HMS Erebus and Captain Francis Crozier as commander of HMS Terror. All three men feature in the daguerreotype set and are shown proudly posing in their uniforms alongside 11 senior members of the crew of HMS Erebus. 
Supplied with three years' worth of preserved food supplies, The Franklin Expedition set sail from Greenhithe England on May 19, 1845, with a crew of 24 officers and 110 men. After two years with no word from the 134 men, Franklin's wife pressed the Admiralty to send a search party. The crew's ample supplies meant the Admiralty waited another year before launching a search and offered a reward equal to £2m today. Franklin's name and the money led to many failed searches, with more men and ships lost than in the expedition itself.
In 1854, the Scottish explorer John Rae determined the fate of the expedition by talking to Inuit hunters during his survey of the Boothia Peninsula for the Hudson's Bay Company. Both ships had become icebound with the men dying from the cold and in some cases resorting to cannibalism. The news was leaked to the press and caused widespread anger in Victorian society. The 134 men never returned. Lady Franklin's determined efforts to find her husband led to over 25 searches over the next four decades, which although unsuccessful in locating the ships, contributed hugely to the mapping of the Arctic.
In 2014 HMS Erebus was discovered by Parks Canada in collaboration with Inuit communities, followed by the discovery of HMS Terror in 2016. Many of the objects discovered during these missions are now held in the National Maritime Museum.
The only other known set of the daguerreotypes is in the collection of the Scott Polar Research Institute (SPRI). The set at SPRI includes 12 portraits, lacking the images of Robert Sargent and Francis Crozier, both found in the present lot.