Harrison-Hiett Rare Books Debuts Clickable Catalogue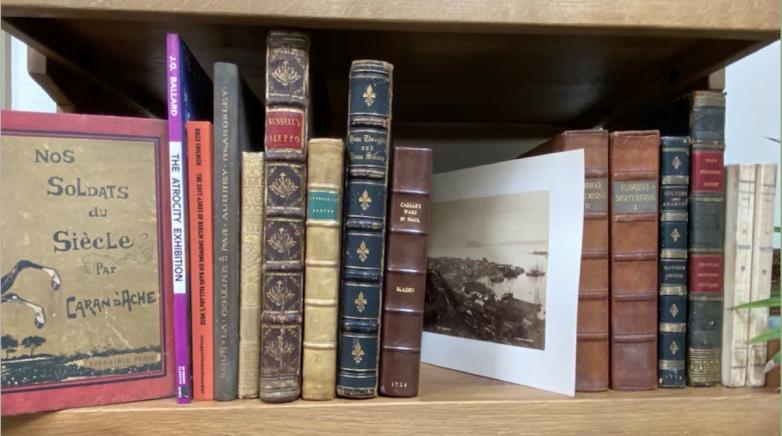 Courtesy of Harrison-Hiett Rare Books
Zeeland,  The Netherlands –- Lockdown has proved frustrating for us all, and we have missed the ritual of browsing a miscellany of books at book fairs and bookshops. As a result, we decided to try to replicate this experience with a fully clickable catalogue.
We have presented three shelves of books, and a "picture wall" with no titles or descriptions in the catalogue.  Instead, a prospective buyer will need to hover over a book on the shelf — to see what it is — and click through if they wish to read more about it. Far closer to the physical sensation of popping into our book room and selecting a book yourself.
Quotes From Marcia Harrison, Director of Harrison-Hiett:
"We believe that this clickable catalogue is an innovative approach to presenting books in the virtual world. We hope that it is far closer to the experience of going to a book fair or bookshop, and choosing which books you wish to examine further."
"It is refreshing to see pictures show in situ, on a wall, and with some idea of scale."
About Harrison-Hiett
Harrison-Hiett is a small, family business. We are based in The Netherlands,  but maintain a small stock and registered office in the UK.
Whilst we very much enjoy visiting and selling at various fairs across Europe, we also sell our items online at www.harrison-hiett.com and via our art website Affordable-Artwork. See www.affordable-artwork.com.
Marc has been a full-time bookseller for more than 25 years, and we are full members of the PBFA (Provincial Booksellers Fairs Association) and the NVvA (De Nederlandsche Vereeniging van Antiquaren). This also affords Harrison-Hiett membership of ILAB (International League of Antiquarian Booksellers). Keen to maintain links with the UK we are both Associate members of the ABA (Antiquarian Booksellers' Association). Marc is a former Chairman of the PBFA. We have also joined IOBA (The Independent Online Booksellers Association).
Marcia's maiden name was Hiett, and she and Marc are co-managers of PBFA London Antiquarian Book Fair.