News
|
September 19, 2022
The Getty Acquires Eugène Atget Photographs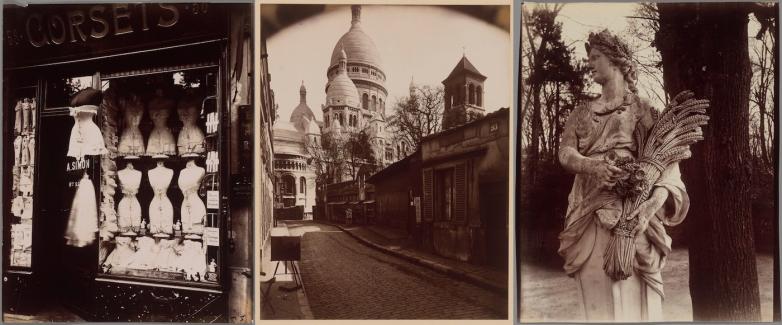 Credit: J. Paul Getty Museum
Los Angeles – The J. Paul Getty Museum has acquired a collection of 209 photographs by French photographer Eugène Atget, two magnificent busts by French sculptor Charles Cordier, and a pair of rare bronze reliefs by the Italian Renaissance sculptor and architect Bartolomeo Ammannati. 
"The transformational acquisition of Atget photographs, a portion of which is a gift to the Museum, makes our holdings of this artist among the most significant in the country," said Timothy Potts, Maria Hummer-Tuttle and Robert Tuttle Director of the J. Paul Getty Museum. "We are especially grateful to Dan and Mary Solomon for their astute eye in building this collection and their generosity in offering it to Getty, where it will further enrich our representation of late 19th and early 20th century French photography by its most innovative and forward-looking practitioner."
Potts continues: "The pair of portrait busts by Charles Cordier, representing a man and a woman of North African descent, are the most renowned and splendid of a series of studies the artist made of Black subjects as representations of universal beauty. These lavishly polychromed bronze and stone portraits will become one of the highlights of our 19th-century sculpture collection and provide a much-needed opportunity to critique the representation of Black subjects and narratives in colonial times."
On the reliefs, Potts adds: "The two bronze reliefs by Ammannati are rare masterpieces of Renaissance sculpture by one of Michelangelo's closest colleagues and friends. One of the reliefs is indeed an homage to the greatest of all 16th-century sculptors, and the impact of his achievement on Ammannati is clear in the second relief showing a pair of river gods."
Eugene Atget Photographs
The Museum has added 209 photographs by Eugène Atget, who occupies a central position in the history of photography as a strikingly original figure. Atget's career bridged the 19th and 20th centuries and his influence on the medium continues to this day. The group is a partial gift from Southern California collectors Dan and Mary Solomon, longtime supporters of the Getty Museum.
In his obsessive visual documentation of Paris and its environs, he invented new approaches to street photography and unlocked the genre's potential for surreal poetry. 
This acquisition represents all of Atget's major series (Landscape-Documents, Picturesque Paris, Art in Old Paris, Topography of Old Paris, Saint-Cloud, Versailles, Sceaux, Tuileries, and Environs), as well as his varied subjects ranging from petits métiers (street merchants) to medieval alleys, modern shop fronts, stairways, architectural details and accessories, utilitarian vehicles, parks and trees, statuary, window reflections, interiors, sex workers, and encampments on the outskirts of Paris. 
The acquisition includes early prints of several iconic subjects as well as two rare albums of Parisian views assembled during Atget's lifetime. Among the past owners of Atget photographs in the Solomon collection are several important artists and writers including Tristan Tzara, André Derain, Ilse Bing, and Richard Avedon.
"Assembled methodically over the past 25 years, Mary and Dan Solomon's Atget collection is the finest in private hands, and dramatically transforms Getty's Atget holdings," said Jim Ganz, senior curator of photographs. "Its acquisition gives the Museum the most important institutional collection of Atget in the United States after the Museum of Modern Art in New York."