Evangeline Gallagher Wins the 2022 Folio Book Illustration Award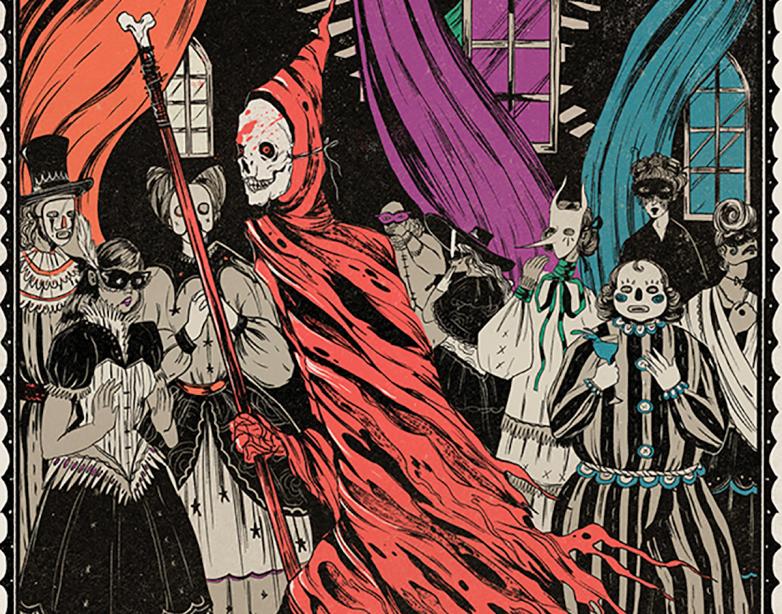 Courtesy of the Folio Society
London — The Folio Society, the publisher of award-winning, beautifully produced illustrated books, has revealed Evangeline Gallagher as the winner of The Folio Book Illustration Award 2022. Launched this year to mark The Folio Society's 75th anniversary, the competition showcases illustration talent from around the world.
Over 680 illustrators from 56 countries entered the inaugural competition, which asked entrants to illustrate a single scene of their choice from Edgar Allan Poe's short story The Masque of the Red Death.
Winner Evangeline Gallagher, a freelance illustrator based in Baltimore in the US, will receive a £2,000 cash prize and a £500 worth of Folio Society books. Their work, was inspired by the story's depiction of the masked figure of the Red Death appearing at Prince Prospero's masquerade ball: "...while the vast assembly, as if with one impulse, shrank from the centres of the rooms to the walls, he made his way uninterruptedly". Drawn with Procreate for the iPad, the illustration makes vivid use of colour, drawing on the motif of the abbey's coloured stained glass and the Red Death's blood-red cloak.
The judging panel also selected a shortlist of five artists who will each receive £500 worth of Folio Society books and an individual portfolio review with the Folio Society Art Directors. They are: Harry Campbell (US), Sarah Coomer (UK), Thanh-Vu Nguyen (Vietnam), Yiran Jia (US), and Zhiyu You (US). Each presents a unique interpretation of the story's narrative and setting, from Thanh-Vu Nguyen's birds-eye view of the ill-fated abbey to Sarah Coomer's facade resembling a skull. The 'Red Death' is also rendered in radically different ways, from Yiran Jia's elaborately adorned figure to Zhiyu You's unraveling corpse.
Tom Walker, Publishing Director, The Folio Society says: "Taking a classic American writer, and inviting visual interpretations of his evocative and timeless short story, we hoped to discover amazing talent from a diverse and distinctly 21st century array of illustrators. The winner and five shortlisted illustrators absolutely deliver on that ambition, each creating a distinctive and visually arresting interpretation of the text."
Sheri Gee, Art Director, The Folio Society says: "We really loved Evangeline's monotone drawing coupled with accents of a carefully curated colour palette. The stained glass windows and coloured light were a difficult element to portray but we felt their piece did it very sympathetically. Looking closer, we loved the array of people in costumes and masks, perfectly illustrating the story."