Curtis's The North American Indian Goes for $882,000 at Hindman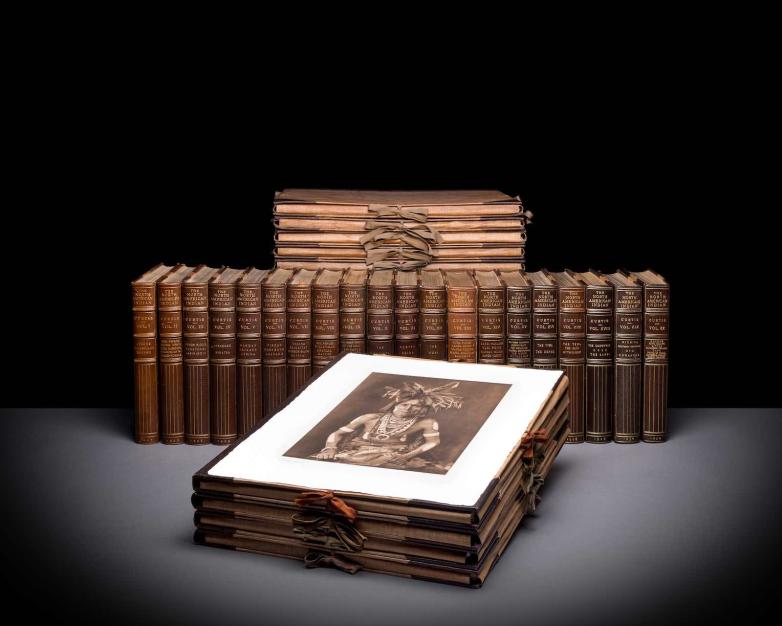 Hindman
A complete copy of Edward S Curtis's seminal The North American Indian, arguably the most complete ethnographic record of the native peoples of North America ever assembled, topped the two days of Fine Books & Manuscript auctions at Hindman. 
The North American Indian was one of the most ambitious and expensive publication projects of its kind, taking more than two decades to complete. It comprises 40 volumes, 20 text volumes featuring 1,511 illustrations, 1,505 photogravures, four maps and two diagrams, along with 20 supplemental folio volumes featuring 723 full sheet photogravures in sepia. Funded in part by JP Morgan, Curtis set out to document as much of Native American culture and history as he could. Writing in the introduction, he explained that "the mode of life of one of the great races of mankind, must be collected at once or the opportunity will be lost."
Complete sets in any condition are rare on the market and therefore highly coveted, and the set offered from the Dorros Family Collection auction (lot 23) attracted enthusiastic bidding that sent the piece past its low estimate selling for $882,000 to a phone bidder.
Influenced by their photographic safaris to Africa and Asia, the Dorros Family Collection included a carefully curated selection of ornithological and natural history works. The highlight of the group was a third edition of Mark Catesby's (ca. 1679-1749) 1771 work The Natural History of Carolina, Florida, and the Bahama Islands (lot 17), which sold for $81,900 against a presale estimate of $60,000 to $80,000.
Other highlights from auction in the natural history category included:
John Gould (1804-1881), A Monograph of the Trochilidae, or Family of Humming-Birds
. Sold for $85,050
George Catlin (1796-1872), Catlin's North American Indian Portfolio. Hunting Scenes and Amusements of the Rocky Mountains and Prairies of America
, the very rare 31 plate hand-colored issue with six new plates. 
Sold for $40,950
John James Audubon (1785-1851), The Birds of America
, first octavo edition. 
Sold for $37,800
Frans Balthazar Solvyns (1760-1824), Les Hindous ou Description de Leurs Moeurs, Coutumes et Ceremonies
, first edition. Sold for $28,350
The Fine Printed Books & Manuscripts including Americana auction began with an extensive collection of works on the art of fencing and swordplay that spanned five centuries. Assembled by a single fencing enthusiast, the highlight of the section was a rare first edition of Joachim Meyer's (ca. 1537-1571) 1570 treatise on the art of fencing (lot 6), which went past its $8,000 to $12,000 estimate before selling for $40,320.
The works of John James Audubon (1785-1851) performed well in the various owner sale with all six lots by the famed naturalist surpassing their presale estimates. The top lot of the group was Plate CCCXI, an engraving of the American white pelican (lot 367), which sold for $88,200. Also of note, Plate CCLXXI, an engraving of the Great White Heron (lot 366) sold for $31,500, easily surpassing its presale estimate of $15,000 to $20,000 

Other notable highlights included:
* Marc Chagall (1887-1985). Bible.
 Limited edition, signed, in exceptional binding by Renée Haas
. Sold for $50,400
* Samuel Langhorne Clemens ("Mark Twain") (1835-1910). The Writings.
 Limited 'Memorial Edition' with a Clemens autograph manuscript tipped in. 
Sold for $20,160
* H.G. Wells (1866-1946). The War of the Worlds. 
First edition, presentation copy with caricatures in Wells's hand
. Sold for $17,640