Bright Young Librarians: Sarah Finn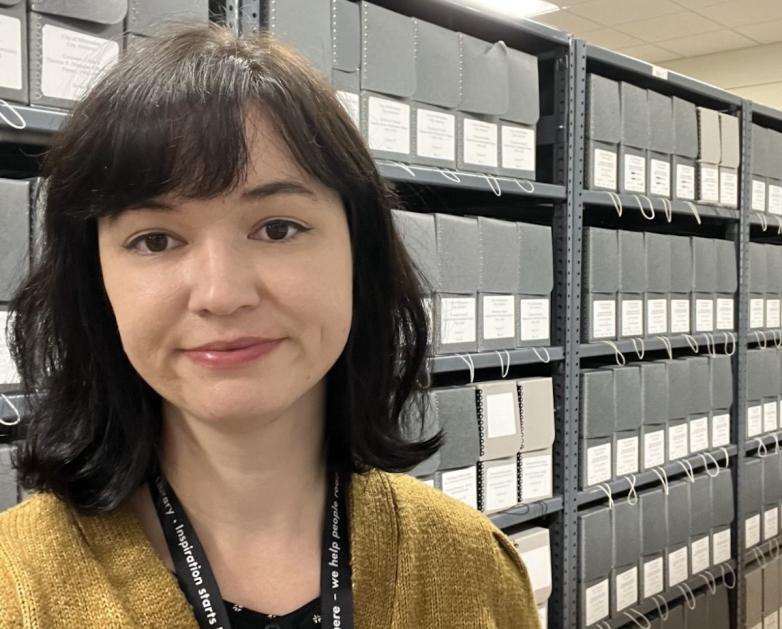 Image courtesy of Sarah Finn
Our Bright Young Librarians series continues today with Sarah Finn of Milwaukee Public Library:
What is your role at your institution?
I am the Archival Projects Librarian in the Special Collections department at Milwaukee Public Library. My primary duties involve reference, processing collections, outreach, programming, and running the department's Instagram account @mplspecialcollections. Additionally, I provide backup assistance to the Rare Books Librarian. Since I work for a public library, there is a lot of variety in what I do day to day, especially because the organization serves such a broad community. Some days I'm more of a public librarian than an archivist because MPL has an all-hands-on-deck approach to staffing service points. It's a lot to juggle, yet it can be very rewarding, especially when I am able to connect people with our unique collections.
How did you get started in special collections?
I started with MPL Special Collections in 2011 as a clerk and got to spend a lot of time with the archival collections behind the scenes because I was the main person overseeing stacks management and putting things away. Working so closely with historical materials inspired me to go back to school with the goal of becoming a librarian.
In 2017, I took a course at the University of Wisconsin-Milwaukee titled "History of Books and Printing" taught by Max Yela, Head of UWM Special Collections. That is when I really fell in love with rare books. Because of my performance in that class, Yela hired me as a student employee at UWM Special Collections. I was encouraged to write weekly blog posts about materials in the collection which served as crash course in "book history." I mainly wrote about fine press editions, illustrated scientific books, and the decorative arts. Max Yela is a fantastic mentor. The student internship program at UWM Special Collections was a transformative experience and it provided a model for the type of librarian I strive to be.
Where did you earn your degrees?
I attended graduate school at the University of Wisconsin-Milwaukee. I completed my MLIS with an Archives Concentration in 2020 and my History MA in 2022.
Favorite rare book / ephemera that you've handled?
My History Masters Thesis was a close examination of the publishing history of The Naturalist's Library, a profusely illustrated forty-volume book series published in Edinburgh from 1833-1843 by William Home Lizars and Sir William Jardine. While working on my thesis I consulted with digital scans of the archival material related to the series. This past September I got to travel to Scotland and view these collections in person at both the National Library of Scotland and the National Museum of Scotland. My favorite things I handled were two scrapbooks of artwork for The Naturalist's Library which included original sketches and plate proofs. It was incredible to view them in person after obsessing over the series for years.
What do you personally collect?
I collect illustrated natural history books. Most of my collection is from the 19th century and it is interesting to track the changes in illustration styles and book-making technologies throughout that period. I especially love books with hand-colored plates or beautiful publishers' bindings. Eventually I want to collect fine press books. I adore Gaylord Schanilec's work, which is very reminiscent of old school naturalists.
What do you like to do outside of work?
I garden and make art. There are so many opportunities to learn various book arts where I live. I've taken classes in printmaking, letterpress, bookbinding, and paper making.
It also sounds nerdy, but I enjoy visiting other special collections libraries in my area or while I'm traveling. I run a personal Instagram account @romanceofbooks where I showcase beautiful natural history illustrations from old books. The account currently has over 101,000 followers which is just wild to me! But it shows that there is a real interest in book history from the general public.
What excites you about special collections librarianship?
Finding out about how books or other artifacts came to be and the stories behind them. Especially in the world of publishing where there are so many interconnected stories. It is thrilling to share these materials with other people. I am also excited about the opportunity to be a liaison between Milwaukee Public Library and other organizations in the area. I am hoping to build stronger relationships with other institutions and community groups so there is more awareness for our collections and to help facilitate use.
Thoughts on the future of special collections librarianship?
I am excited that there seems to be a trend towards openness in special collections. I think academic libraries have made great strides with inviting more people in to use their collections. I have noticed that they also center a diverse range of perspectives and backgrounds in exhibitions and programming. I think public libraries lag behind a little bit with this, even though our clientele is broader, it seems like public libraries are sometimes stuck in the perspective that only "special people" can view special collections. I know my colleagues and I are trying to change that.
Any unusual or interesting collection at your library you'd like to draw our attention to?
It is really hard to choose! Honestly, I wish more people knew how vast Milwaukee Public Library's collection is. My colleagues and I joke about librarians being hoarders. MPL's Central Library opened in 1898 and is a huge building. Over the years we've unearthed so many treasures.
MPL has particularly strong archival collections related to the Milwaukee Road, Great Lakes Marine Collection, and Wisconsin Architecture Archive. They also have a fantastic Rare Books Collection. I love the variety of materials MPL holds. 
Any upcoming exhibitions at your library?
In early 2023, Milwaukee Public Library is resuming its "Treasures of the Rare Books Room" series and we are kicking it off with programming related to botanical prints. I will be giving a virtual presentation outlining the history of books that feature botanical illustrations. There will also be an in-person open house where the public can interact with materials from MPL's Rare Books Collection in person. The dates are still TBD but we will be promoting it on our social media channels at the start of the new year.