Bright Young Librarians: Georgia Brown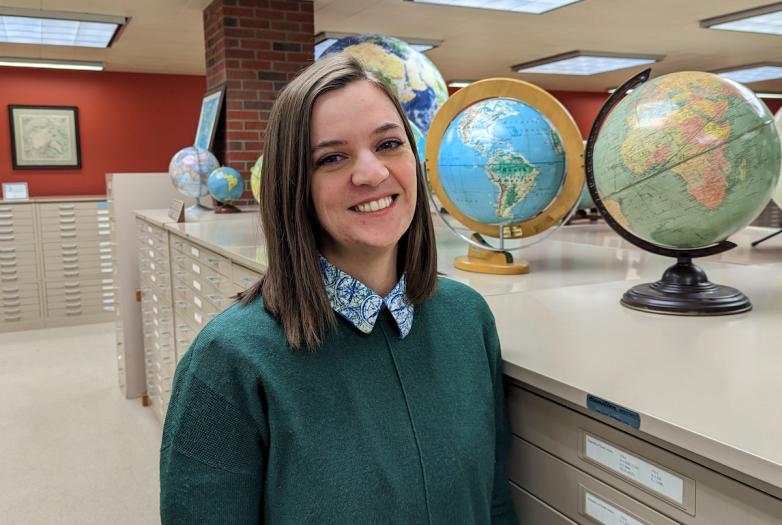 Zoï Doehrer
Our Bright Young Librarians series continues today with Georgia Brown at the University of Wisconsin - Milwaukee:
What is your role at your institution?
 I am the Public Services Librarian at the American Geographical Society Library, a part of the University of Wisconsin-Milwaukee Libraries. I handle reference, instruction, and outreach in our library. I tell visitors that I am the person who handles paper materials, since our library also has a GIS librarian and a photograph librarian on our staff. I deal with the maps, atlases, rare books, pamphlets, etc. in our collection.  
My day to day is juggling reference questions and consultations from students, faculty, community members, and folks from around the world. During the semester, I work with professors and teachers on designing instruction sessions to best fit their needs and how our collection matches up with their curriculum. I also work on physical and digital exhibits and long-term projects – my summer project will be on a libguide for tips and tricks on how to search for materials in our collection.
How did you get started in special collections?
I had visited the archives in my undergraduate institution, but what really started my journey in special collections was taking a class in graduate school titled, Maps as Historical Sources. The class took place in the American Geographical Society Library, where I work now. The curator (my current boss) sat in on the class one day and afterwards, I walked up to her and told her that I wanted to do a job like hers. Before I took the class, I didn't even realize that map librarianship was an actual job. The reference librarian before me was excellent at helping patrons and putting together materials for class visits, and while at the time I certainly didn't realize I would have the exact same job, I thought to myself, I could be good at that job!
And look at me now, I am good at that job!
Where did you earn your degrees?
I earned my BA in history from the University of Tennessee at Martin in 2017, and MLIS & MA in history from the University of Wisconsin-Milwaukee in 2020.
Favorite rare map that you've handled?
Picking a favorite item feels impossible! Students ask me this all the time & I have to rotate it to keep it fair – today I'll pick the 1687 Coronelli map of the Great Lakes region. I use it as a teaching tool all the time. If you zoom into any of the Great Lakes, you can see multiple options for names of the Great Lakes. Also, in the cartouche at the top right, there are different scales for different countries. These are just two of the reasons I show it to students, so they can understand that mapmakers weren't the ultimate authority on places they were mapping.
What do you personally collect?
I am a novice collector of postcards, buttons, puzzles, and playing cards. Since I'm known as the history buff in my family, I also get gifted the cool and exciting historical pieces from our family. My grandfather gave me his grandfather's bugle from World War I and my aunt gave me her aunt's World Geography First Book - Tennessee Edition, which was published in 1914. It was a very cool gift that intersects my current job and my home state.
What do you like to do outside of work?
In my free time, I love reading, watching sitcoms, and walking with my husband, Alex, and our two dogs, Oreo and Nutter Butter. I also enjoy doing puzzles, but we keep a geography-themed puzzle at work for patrons and occasionally us staff members.
What excites you about special collections librarianship?
My favorite part of my job is instruction visits. I love the students coming into our library and them asking, "Is this really from 1680?" Letting them know that they can see these materials in or out of class is an important part of my work. I also love knowing that they leave with a better understanding of how their class connects to the primary sources they saw in our library.
Thoughts on the future of special collections librarianship?
Like I said earlier, I mainly deal with the reference and instruction of our paper materials, but I think the future is going to be more technologically heavy. I think advances in machine reading and archives as data will have bigger impacts on our collections in the future. I know funding and training will keep this trend from being available more broadly, but I do see this being a part of our future in special collections librarianship.
Any unusual or interesting collection at your library you'd like to draw our attention to?
We are nearing two million items in our collection, so narrowing it down is tough. Our oldest map is a map of the world from 1452. What I think is our coolest map is a scroll from 1691-1709 written in Zapotec / Spanish of a town in what is now Oaxaca. Some of our collection's strengths include the Arctic, Central and South America, and World War I Peace Conference materials. For more information about the collection, you can check out my StoryMap, The AGSL at a Glance.
Any upcoming exhibitions at your library?
Our next exhibit is in conjunction with our big annual lecture - Maps and America: the Arthur Holzheimer Lecture Series presents 'Unquiet Journey: Mapping the Underground Railroad'. Our collection does not have too much material related specifically to the Underground Railroad, so I had to lean into the storytelling of the speaker and the actual journeys of those escaping slavery to build the exhibit. My interns Lillian Pachner and Anna Rohl also curated sections of the exhibit that I am really excited about. The exhibit will be up through the summer & the digital component will be released soon on our Exhibit webpage.