Bright Young Booksellers: Sören Schuhmacher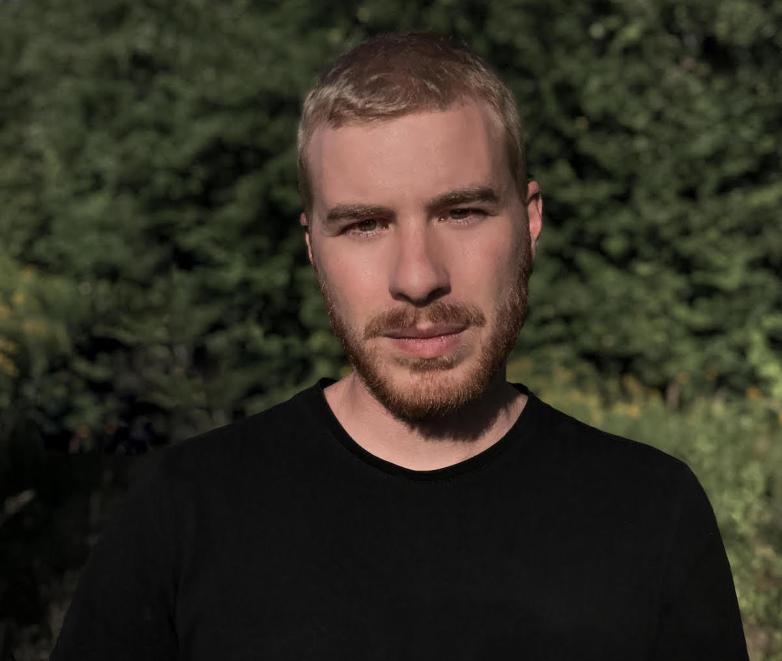 Credit: Cristina S. Herrero
Our Bright Young Booksellers series continues today with Sören Schuhmacher, proprietor of Chunking Books, who recently relocated from Germany to northern Spain.
How did you get started in rare books?

I found my way into the book trade through various detours. I started out as a photographer and was intrigued by the emerging photo book scene and its self-publishing mentality, which led me to create my own zines. I loved the whole process making them and it was such a joy editing the images, choosing the right paper and binding for each publication, which all gave me a better understanding of the craftsmanship that goes into making a book. I was working primarily with found materials and antiquarian books have always been an important source for me. When I was looking for books from the 19th and early 20th century on Arctic expeditions for my work "Die Entzauberung" [The Disenchantment], I got in contact with a bookseller, who later asked me if I could take the photos for his upcoming catalogue, and I said yes. Some days later he came to my studio with four boxes of books, and I remember how exciting it was for me to spend time with these books. I still can remember one small book with tipped-in photographs about a French boarding school for the blind from the beginning of the 20th century. From then on it took a while until I decided to commit myself completely to books and was lucky enough to be able to participate in CABS Virtual in 2021, which was a wonderful experience and gave me the confidence that this is the right path for me.

When did you open Chunking Books and what do you specialize in?

I started Chunking Books in November 2021 out of our living room in the middle of the pandemic by publishing my first catalogue on the French writer, photographer, and filmmaker, Chris Marker. Publishing a print catalogue right at the beginning was very important to me, because it helped me to have a certain framework in which I could work without having a large inventory, and it also motivated me to hold a physical object in my hands as a finished work. Chris Marker was the perfect starting point, as I felt most connected to his work, that ranges from photography, poetry and literature to graphic design. These are also my personal areas of interest, which I'm expanding bit by bit. The beauty of the book trade is that these areas can be in flux and it's always possible to explore other fields, which for me is what makes it so appealing. I work in a very catalogue-oriented way, that forces me to keep going in new directions with a certain topic in mind. Within that setting, however, anything is possible, and a medical dissertation from the 18th century can then be in dialogue with an art journal from the 1960s, offering different perspectives on the same subject.

What do you love about the book trade in Germany?
It's hard for me to talk exclusively about the book trade in Germany, because I recently moved to Spain with my family and during the time I was starting Chunking Books I couldn't attend any book fairs because they were all cancelled due to the pandemic. The books I deal with are only a small percentage of German-language books, so I don't feel particularly associated with the German book trade, and actually like the fact that it puts me in contact with people from other countries. But in general, having worked in other professions, I really appreciate the ethics of the trade and its people, plus that everyone can find their own niche, which I think makes it very lively and varied. And of course, dealing with beautiful and interesting objects is always a big thrill. 
Describe a typical day for you:

I must admit that I don't have typical days, because the work that needs to be done varies greatly and also needs to be balanced with family life. Nevertheless, my day starts with taking my eldest son to kindergarten after I've finished working through my emails, I spend some time researching and reading for new books to buy. Before I pick up my son again, I drop off books at the post office and don't start back until late in the evening. I then catalogue or photograph new material, or work on the website or the upcoming catalogue.

Favorite rare book (or ephemera) that you've handled?

I was very lucky to come across a screenplay by Agnès Varda called "Peace & Love," which was never realized. It was written when Varda was living in California with her husband Jacques Demy at the end of the 1960s, where she was fascinated by the counterculture that was happening in Los Angeles. The script centers on the hippie movement in California and was to be produced by Columbia Pictures, starring a young and unknown Harrison Ford. Eventually, Columbia Pictures would not grant Varda the final cut, which led to the end of negotiations, with her leaving the project. On top of that, she was pinched in the cheek by one of the producers, whereupon she slapped him and lost her funding. I admire her very much, and it was very special for me to hold this script in my hands.

What do you personally collect?

I collect photo and artists books and vernacular photographs, but I'm in the middle of downsizing my collection because I've realized that I enjoy researching and discovering books more than owning them, but if I have something that touches me, I will hold on to it a little longer.

What do you like to do outside of work?

I enjoy spending time with my family and since we recently moved to northern Spain there are still countless beautiful places to discover. It was a childhood dream of my partner and me to live by the sea so we enjoy our free moments there. 

Thoughts on the present state and/or future of the rare book trade in Germany?

I'm still fairly new to the trade, but I like that there is already a conversation and awareness of underrepresentation and a commitment to address it, which I admire. It shows me that the trade is very much alive and not disconnected from the present. I think that in the future it will be important to find new visual ways to present books to reach younger people. Even though one of the unbeatable advantages of the book is its tangibility, it's important that we think about how to present books online in the most exciting way possible. 
Any upcoming fairs or catalogues?

I am currently working on my second catalogue on time and memory, which will be completed early next year. My idea is to approach the catalogue more like an artist's book and to expand on the concept of my first catalogue. At the same time, I'm working on an online version, which I hope will have its own individual value.