Bram Stoker Festival Returns This Weekend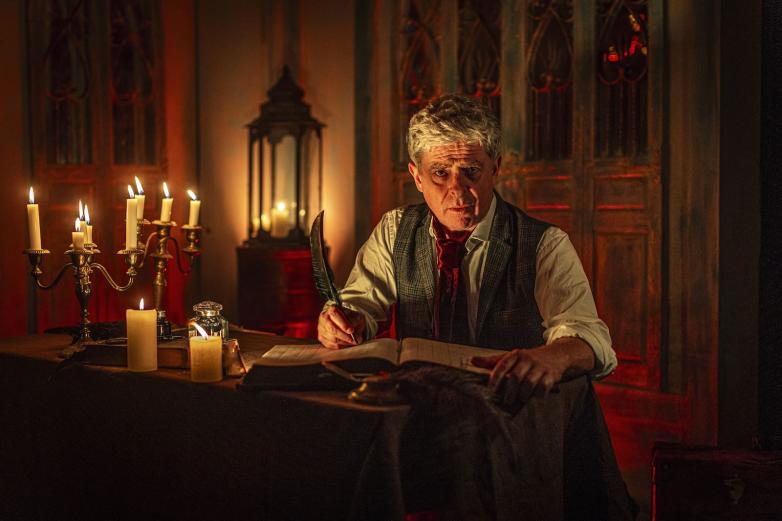 Allen Kiely/Bram Stoker Festival
One of Dublin's biggest celebations, the Bram Stoker Festival is back with more than 50,000 people expected to enjoy activities across the city from October 27 to October 30.
Highlights include:
* the Abbey Theatre highlighting Stoker's literary brilliance with Dracula: A Journey Into Darkness, a staged reading of Dracula chapters 1-4, read live by Andrew Bennett (The Quiet Girl/An Cailín Ciúin) as Johnathan Harker and Barry McGovern (Apocalypse Clown) as the unseen Dracula and directed by Joan Sheehy (The Quiet Girl/An Cailín Ciúin).  
  
* Stoker's great-grand nephew and custodian of the Stoker Estate, Dacre Stoker will offer Dissecting Dracula at Stoker's old place of work, Dublin Castle. At this interactive literary workshop, the secrets of Dracula's creation will be unlocked as Dacre dissects rare, replica papers borrowed from libraries and archives worldwide.
* Macnas' new Hallowe'en Parade, Cnámha La Loba, which will welcome Dubliners and visitors on October 30, the eve of Hallowe'en, with a premiere in Galway City on October 29 
Years before the publication of Dracula, Bram Stoker was granted unrestricted entry to the infamous Millbank Prison, on the banks of the Thames in London. Inside these walls, he crossed paths with renowned criminals, fraudsters and killers. One particular encounter with an Irish prisoner, entangled in a web of violence spanning Ireland and Britain, left an indelible mark on Stoker's imagination. Join Dr. Jason McElligott, Director of Marsh's Library, for Criminal Insanity: Bram Stoker and the Inmates of Millbank Prison, a captivating lecture on the murky, real-life people and places which informed Stoker's masterpiece at The Graduate Memorial Building in Trinity College - home to the College's Historical and Philosophical Societies - both of which record Stoker as auditor during his time as a student.
Visitors are also invited to explore Stoker's alma mater Trinity College at Trinity Trails Bram Stoker Tour. This tour of the campus will explore the legacy of its literary giants and walk in the footsteps of literary giants like Stoker, Jonathan Swift, Samuel Beckett, and Sally Rooney.
A regular Bram Stoker Festival favourite, Stokerland, the free annual pop-up Victorian fun park, opens its Gothic Gates for families and the eternally young for three days in St. Patrick's Park. Each day at Stokerland is different, with all sorts of activities taking place across the park. This year, there'll be a mix of storytelling and draw-alongs, bands, discos and dance parties, street theatre and walkabout performers, art workshops, spooky science shows, magic shows and circus workshops.
Elsewhere, Raidió na Life: Súmairí agus na Neamhmhairbh is presented in partnership with Raidió Na Life, a live podcast as Gaeilge with readings from the Irish language version of Dracula with special guests and dark musical interludes at the Palatine Room in the National Museum of Ireland, Collins Barracks. 
Speaking about the festival, the Lord Mayor of Dublin Daithí de Róiste said "Bram Stoker is one of Dublin's most fangtastic literary greats and I'm looking forward to what I'm sure will be a Spooktacular Dublin City Council Bram Stoker Festival this Halloween. There's something for everyone so check out the programme of events and come along, if you dare!"