Bloomsday, the Rosenbach's Annual Celebration of Joyce's Ulysses, Returns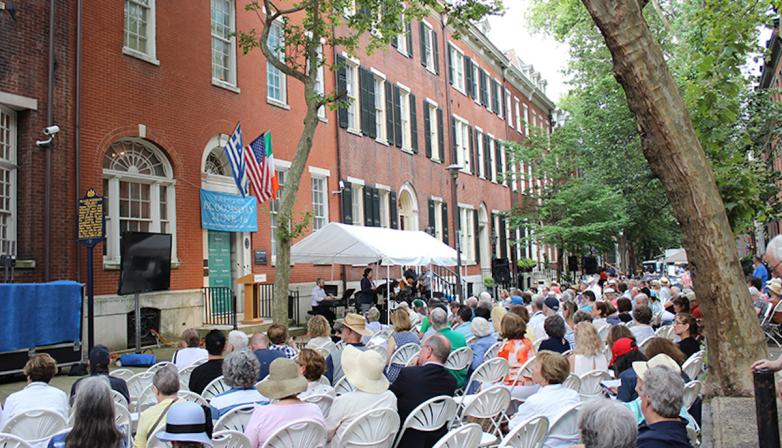 Courtesy of the Rosenbach
Philadelphia — Every year, the world celebrates Bloomsday on June 16, the day that James Joyce's Ulysses is set in 1904. Nowhere celebrates quite like The Rosenbach Museum and Library, home of Joyce's manuscript. Ulysses was published 100 years ago in 1922, and after two years, the in-person festival returns, just in time for the centennial.
 
Bloomsday is a day-long public reading with musical performances that bring the epic novel to life. Joyce enthusiasts and novices alike can drop by any time to listen to the reading, relax in the beer garden with local food trucks, and enjoy free admission to The Rosenbach to view portions of the manuscript in our new exhibition, 18 Reasons to Read Ulysses. Bloomsday is FREE and open to the public. Guests can drop by any time between 11:00 a.m. to 8:00 p.m. on Thursday, June 16, Full details at www.rosenbach.org/bloomsday.
 
"James Joyce's Ulysses has been called the greatest modern novel, but it has also inspired scores of writers and readers since its publication in 1922, solidifying its place as one of the most influential novels of all time." Says Kelsey Scouten Bates, The Rosenbach's John C. Haas Director. "The Rosenbach is proud to celebrate this 100th anniversary of the groundbreaking genius and impact of Ulysses."
 
This year's Bloomsday festival will feature food and drinks from local vendors: Weckerly's Ice Cream & Lil Pop Shop, Bloomsday Café, 2 Street Sammies, Bonks Bar, Lucky Cat Beer Co., John's Water Ice, Federal Donuts, and El Secreto Snacks. Bloomsday sponsors include Consulate General of Ireland, Lenni Steiner and Perry Lerner, Alix Gerz and George Matysik, and the South Jersey Celtic Society. Special thanks to the Free Library of Philadelphia, The Rosenbach's formal partner.
 
Alongside the Bloomsday festival on June 16, The Rosenbach presents a series of special programs.
·         Written In My Heart: James Joyce & Irish Authors | Behind the Bookcase tour (in-person) on Sunday, June 5
·         In Conversation with Colm Tóibín, Music in Ulysses (virtual) on Tuesday, June 7
·         In Conversation with Daniel Mulhall, Ulysses: A Reader's Odyssey (in-person) on Monday, June 13
·         Young Friends Bloomsday Pre-Party (in-person) on Tuesday, June 14
 
In the event of rain, the Bloomsday festival will be moved to Trinity Memorial Church at 22rd and Spruce Streets. To learn more about Bloomsday and to register, visit rosenbach.org/bloomsday.