News
|
September 21, 2023
Atomic Bomb Book Signed by Oppenheimer and Einstein to Auction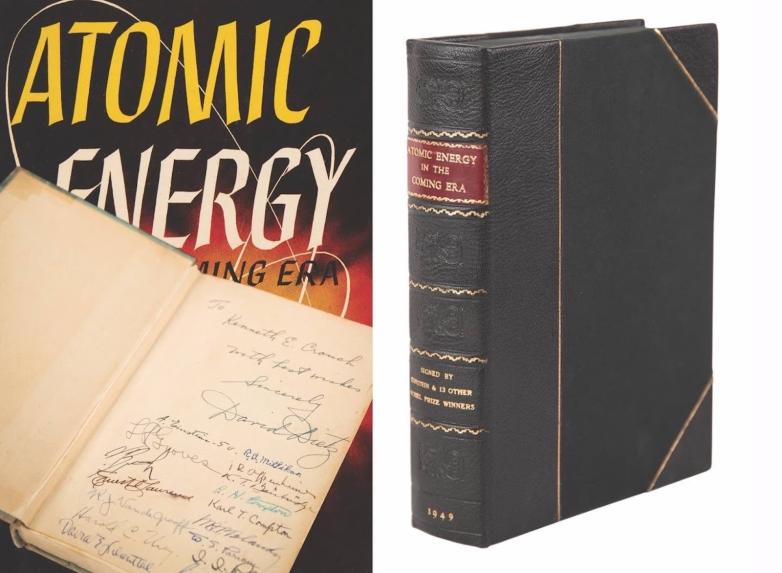 RR Auction
A signed book from the dawn of the atomic age featuring the signatures of J. Robert Oppenheimer, Albert Einstein, Niels Bohr, and other nuclear researchers goes under the hammer at RR Auction this week.
Atomic Energy in the Coming Era by David Dietz, a sixth printing edition published in 1949 by Dodd, Mead & Company features in the auction house's annual Remarkable Rarities sale. The book, a 184 page hardcover with its original dust jacket, also includes 49 signatures representing the who's who of 20th century physics, among them 14 scientists who received the Nobel Prize in Physics or Chemistry.
In addition to Oppenheimer's and Einstein's signatures are those of Robert Millikan (who determined the electron's charge), Ernest O. Lawrence (the inventor of the cyclotron used in Los Alamos), E Leslie R. Groves, (head of the Manhattan Project), and Carl Spaatz, who directed the bombings of Hiroshima and Nagasaki.
Author David Dietz initially inscribed the book to Kenneth E. Crouch, an accomplished autograph collector, newspaperman, and historian. Subsequently, Crouch is thought to have actively pursued and collected the additional signatures. The book is believed to be making its debut appearance at auction.
"These autographs are like pieces of a puzzle, each telling a unique story within the larger narrative of the Manhattan Project. Together, they create a vivid picture of a defining moment in human history," said Bobby Livingston, Executive VP at RR Auction. 

Other sale highlights include:
a Robert Oppenheimer signed condolence letter on the death of Einstein
rare printings of Alexander Hamilton's Federalist Papers and Thomas Jefferson's Notes on the State of Virginia
a first edition of the Lincoln-Douglas Debates signed by Abraham Lincoln
Online bidding is underway, with the live auction scheduled for September 23.