Premier View of Anne Sharp's Emma by Jane Austen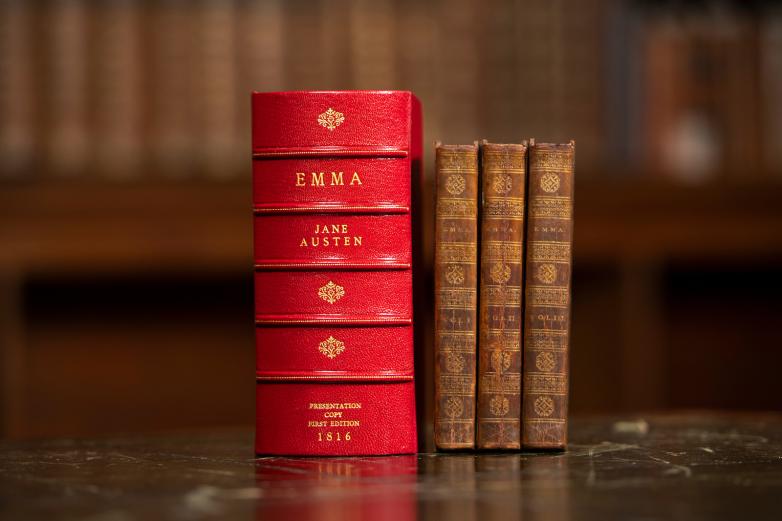 Peter Harrington
To open our 20th anniversary year, join us for an evening at Chawton House and be amongst the first few to see a very special edition of Jane Austen's Emma before it goes on public display.
Published in 1815, Emma was the last of Austen's novels to be published during her lifetime. The author sent one of 12 special presentation copies of the novel to her friend Anne Sharp, who was governess to her brother Edward Knight's children at Godmersham Park. The copy carries the handwritten message 'From the author' inside, along with Anne Sharp's own signature. Its rarity led to it becoming the most expensive of the author's works ever sold, reaching £375,000 ($456,000) in 2022.
It was generously placed on long-term loan to Chawton House by its new owner, and has never before been displayed.
Drinks and canapes will be served from 6pm by the fire in the Great Hall, followed by a guided viewing in two parts led by a member of the Curatorial team.
Part 1: 'At Godmersham with Jane' tells the story of Austen's relationship to Godmersham Park, displaying items from the Knight Family Collection in the Dining Room.
Part 2: 'In the Library with Jane' will invite guests into the Library to view the Anne Sharp Emma, alongside early editions of Austen's novels, and some of the women's works that influenced her writing.
Tickets: £35. Ticket costs will go towards maximizing public access to this rare work whilst it is on loan, including acquiring a bespoke case to display this and other treasures of the collection.