Library of Congress Acquires 200 Sketches of the Rodney King Police Brutality Trials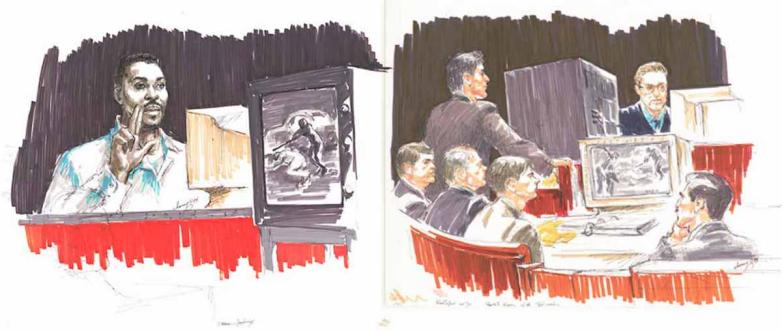 Credit: Prints and Photographs Division, Library of Congress
Washington, D.C. — The Library of Congress has acquired more than 200 sketches of the Rodney King police brutality trials against four Los Angeles police officers in the 1990s, drawn by courtroom sketch artist Mary Chaney (1927-2005).
Rodney Glen King (1965-2012) was an unarmed African-American man savagely beaten by four white police officers on March 3, 1991, after leading them on a nighttime high-speed chase during his arrest for drunken driving in Los Angeles.
The beating, caught on tape by George Holliday from his apartment balcony, reportedly created the world's first viral video. Officers Laurence Powell, Timothy Wind, Stacey Koon and Ted Briseno were tried in federal and civil court for excessive use of force.
The collection of 269 sketches from the Rodney King criminal and civil trials between 1992 and 1994 — including 140 original sketches donated by Chaney's estate and 129 purchased by the Library — is a milestone for the Library of Congress, which until now had no courtroom drawings by California-based female artists.
"It gives me chills, it really does. Recognition was not her goal in life; she lived for her art, it was sacred to her. I´m so very pleased that she is going to be in the Library of Congress," said Chaney's daughter, Lark Ireland. "She had quite a passion for civil rights, so when the beating occurred… so many people were horrified about it, as she was."
Chaney switched from commercial art to court illustrations in the mid-1980s and had already done sketches of other high-profile cases before the first trial of the four LAPD officers. News outlets and law journals used her delicate drawings, which became instant historical documents. Chaney's sketches were published by the Los Angeles Times, USA Today and all of the major LA television outlets.
The Chaney collection includes marker and ink sketches from the sentencing of officers Powell and Koon on federal civil rights charges in 1993 and the 1994 civil trial in which a jury awarded King $3.8 million in damages.
Although the focus is on the police officers, some of the sketches feature King on the witness stand describing his injuries while recording of the beating plays at his civil trial against the city of Los Angeles. Others show Judge John G. Davies (1929-2020) and members of the jury.
Thirty years after the beating that shocked the nation, cellphones, citizen journalism and social media quickly spread images of police brutality against people of color, as the country still grapples with racial justice and criminal justice reform.
The Chaney sketches will help media, scholars, teachers and the public broaden the dialogue on racial equity and law enforcement in America.
"As a curator, I seek courtroom drawings that are a touchpoint in American history. The sketches from the federal trial against the police officers for violating Rodney King's civil rights and his civil lawsuit against the city of Los Angeles stand out as the type the Library should be collecting and making available to researchers," said Sara Duke, curator of Popular and Applied Graphic Art at the Library of Congress.
The federal criminal trial and the civil trial against the four LAPD officers in the King case are considered a pivotal moment in legal history because they were the first major proceedings to deal with civil rights for African-Americans facing arrest.
The officers' acquittal on April 29, 1992, on state criminal charges led to five days of rioting and looting that left more than 60 people dead and caused an estimated $1 billion in damages.
King died on June 17, 2012, of accidental drowning in his pool at his home in Rialto, California.
Chaney trained at the Chouinard Art Institute, Loyola Marymount University and the Otis Art Institute and began her career as a commercial illustrator, but prompted by a colleague, she switched to doing sketches in LA courtrooms, according to Ireland.
Her sketches join the extensive collections in the Prints & Photographs division of original illustrations spanning court cases dating from 1964 to the present day, including landmark cases, murder and terrorism trials, race-based crimes, and celebrity trials, among others.