ILAB Webinar on the Paris Virtual Book Fair, April 22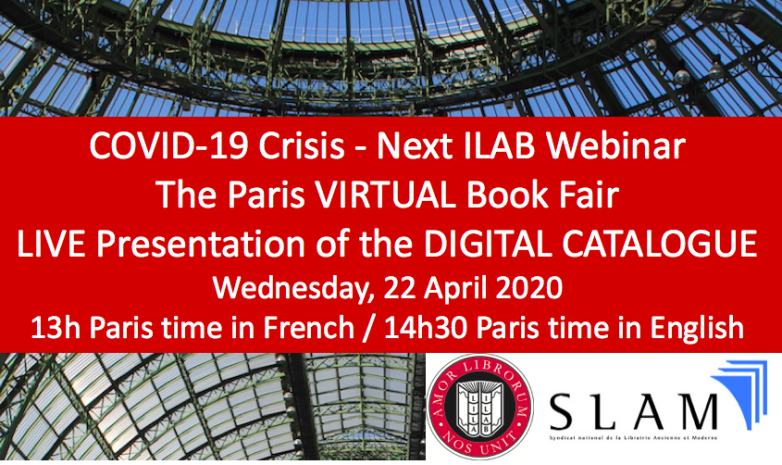 Courtesy of ILAB
Due to the current worldwide COVID-19 crisis, the Paris Salon du Livre Rare / Paris Rare Book Fair was postponed to a new date in September: 4-6 September 2020.
The Paris fair should have opened its doors this Thursday. However, in an enormous effort, the organizers have put together the first VIRTUAL RARE BOOK FAIR which will be launched with a digital catalogue this Thursday at 5pm Paris time (the launch of the virtual book fair NOT the webinar!)
The stock which would have been for sale in Paris is now available in this new format and can be accessed from Thursday!
Access to the virtual fair will be via the fair's website, see: https://www.salondulivrerare.paris/
The actual Paris digital catalogue will be launched on Thursday, 23 April 2020 at 17h Paris time - the same time as the fair had scheduled its official opening.
Please join ILAB and SLAM, the French Antiquarian Booksellers Association in a brief presentation about this virtual fair and a presentation of this unique digital catalogue!
 
There will be 2 webinars  - ENGLISH & FRENCH
Wednesday, 22 April (tomorrow!) at 13h Paris time in FRENCH
Wednesday, 22 April (tomorrow!) at 14h30 Paris time in ENGLISH
 
They have two different links! See all information below.
 
We hope to see many of our colleagues tomorrow at one of these sessions.
 
AMOR LIBRORUM NOS UNIT!
The webinar is run on a video conferencing software called Zoom.
 
Please click this link to join the FRENCH LANGUAGE webinar:
https://us02web.zoom.us/j/88921457555
 
No pre-registration is required.  Only click on the link on the day.
DATE: Wednesday, 22 April 2020
TIME: 13h PARIS TIME
Please click this link to join the ENGLISH LANGUAGE webinar:
https://us02web.zoom.us/j/83313873914
 
No pre-registration is required.  Only click on the link on the day.
DATE: Wednesday, 22 April 2020
TIME: 14.30h PARIS TIME
 
PLEASE CHECK YOUR INDIVIDUAL TIMES - SAMPLE TIMES BELOW:
 
New York / Toronto:  7am French / 8.30am English
London: 12 noon French / 1.30pm English  
Paris, Berlin, Amsterdam, Rome, Vienna, Copenhagen, Prague, Budapest, Oslo, Madrid, Stockholm, Zurich: 1pm French / 2.30pm English
Moscow / Helsinki  2pm French / 3.30pm English
Tokyo  8pm French / 9.30pm English
Sydney/Melbourne  9pm French / 10.30pm English
 
Just click on the link a few minutes before the beginning of the webinar. It should then give you the following message: "Please wait. The webinar will begin soon." If it has started already, you will see the panelists on the screen.
On some browsers it asks to put in your name and email address, please do.
 
Questions & Answers during the webinar - USE THE "Q&A" BUTTON on your screen!
 
The webinar allows all viewers to ask live questions which are sent to the moderator who will put as many questions as possible to the panelists. The panelists will answer as many questions as possible.
 
Please use the "Q&A" Button on your screen: click on it and then type in your question! We will try and discuss as many points as possible.
 
Some tips:
 
If you have not used Zoom before, please allow yourself an extra 15 minutes as your computer will download the software first and this might take a moment.
 
If your computer has downloaded the software but you can't find where to click, please look for the ZOOM logo on your desktop and click on it. See below an image of the logo!
 
If you log in from a tablet or mobile phone, there is a Zoom app you can use. It will make it easier if you install the app beforehand. It's free of charge. Download "ZOOM" in the App Store. See logo below in this email.
 
Please contact Angelika Elstner in the ILAB Office if you have any technical questions beforehand and if you would like to send us questions or discussion points ahead of the webinar: secretariat@ilab.org. Also contact the ILAB office if you are asked for a webinar ID (it should not but just in case).
 
Panelists:
 
Hervé Valentin, France (SLAM)
Michel Bouvier, France (SLAM)
Anne Lamort, France (ILAB)
Sally Burdon, Australia (ILAB)
Anne Marie Coulon (SLAM Secretariat)
Angelika Elstner (ILAB Secretariat)
 
Recording available after the webinar
 
We are recording the webinar and will send out the link shortly after the webinar is finished if you cannot attend the live webinar.