Joy Williams to Receive 2021 Library of Congress Prize for American Fiction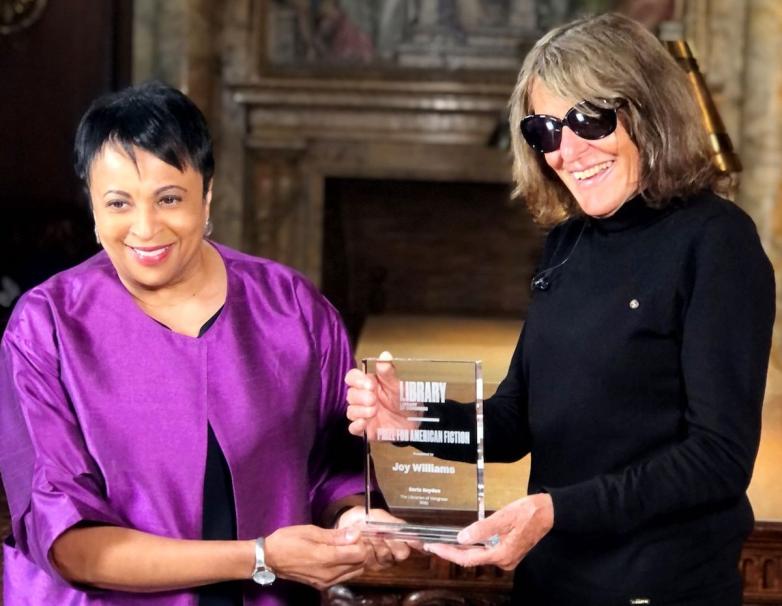 Courtesy of the Library of Congress
Washington, D.C. — Librarian of Congress Carla Hayden announced today that the 2021 Library of Congress Prize for American Fiction will be awarded to Joy Williams, who is receiving the prize for a lifetime of outstanding work.
One of the Library's most prestigious awards, the annual Prize for American Fiction honors an American literary writer whose body of work is distinguished not only for its mastery of the art but also for its originality of thought and imagination. The award seeks to commend strong, unique, enduring voices that — throughout long, consistently accomplished careers — have told us something essential about the American experience.
"I am pleased and honored to confer this prize on Joy Williams, in celebration of her almost half-century of extraordinary work," Hayden said. "Her work reveals the strange and unsettling grace just beneath the surface of our lives. In a story, a moment, a single sentence, it can force us to reimagine how we see ourselves, how we understand each other — and how we relate to the natural world."
Hayden selected Williams as this year's winner based on nominations from more than 60 distinguished literary figures, including former winners of the prize, acclaimed authors and literary critics from around the world. The prize ceremony will take place online during the 2021 National Book Festival, Sept. 17-26.
Williams is the acclaimed author of four short story collections, two works of nonfiction and five novels, including the upcoming Harrow (Knopf, Sept. 14, 2021).
"This is a wonderful award and one that inspires much humility," Williams said. "The American story is wild, uncapturable and discomfiting, and our fiction — our literature — is poised to challenge and deeply change us as it becomes ever more inclusive and ecocentric."
Williams' many honors include the Rea Award for the Short Story and the Strauss Living Award from the American Academy of Arts and Letters. She was elected a member of the Academy in 2008, and she has been a finalist for the Pulitzer Prize, the National Book Award and the National Book Critics Circle Award.
Upon hearing the news, Don DeLillo, the 2013 recipient of the Library's Fiction Prize, said, "The fiction of Joy Williams reminds me how lucky I am to be an American writer. She writes strong, steady and ever-unexpected narratives, word by word, sentence by sentence. This is the American language and she is an expert practitioner."
The 2021 Library of Congress National Book Festival will take place Sept. 17-26, and will include more than 100 authors, poets and illustrators in all genres. The festival, with the theme "Open a Book, Open the World," encourages attendees to create their own festival experiences through multiple formats over 10 days.  
This year's festival offers a variety of ways to access programs, allowing attendees to tailor their experience and interests to their preferred mode of participation. Festival content will be available online through videos on demand, author conversations in real time and live question-and-answer sessions, as well as a series of podcast interviews, a national television special and some in-person, ticketed events at the Library. Local libraries, community centers and attendees are also encouraged to host watch parties and other community events in their local areas.