Bright Young Booksellers: Daylon Orr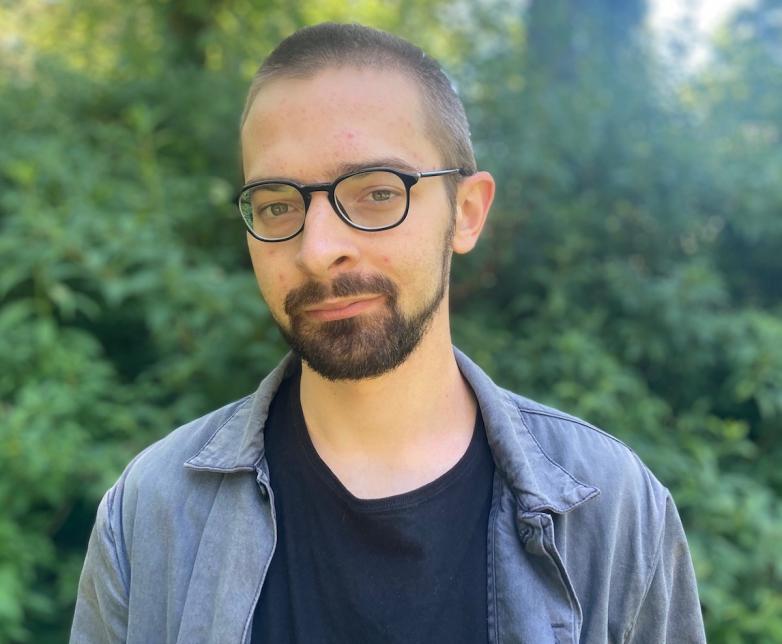 Credit: Maya Fell
Our Bright Young Booksellers series continues today with Daylon Orr, executive director of Boo-Hooray and founder of Fugitive Materials in New York City.
How did you get started in rare books?
I started as an archivist and rare book cataloguer at the age of 20 -- an unexpected but life-changing move. Growing up, I was an endlessly curious reader but never thought much about the book as an object. While I was a bike messenger working toward my undergraduate degree at Hunter College, I ran the radio station and organized the zine library for 8-Ball Community, an independent publisher and artists' collective. I came across a Boo-Hooray publication of archival materials and, eager to learn more, approached their booth at the New York Art Book Fair. I started as an intern at Boo-Hooray soon after, was hired shortly after that, and started by cataloguing the Douglas Turner Ward Archive, now at Emory University. Today I work with an incredible team to produce the antiquarian catalogues and shortlists, and place archives and ephemera with museums and universities -- and I started my own bookselling and publishing project, Fugitive Materials, in 2020. I've also been lucky to work several superb rare booksellers on other projects, including Heather O'Donnell of Honey & Wax and Adam Davis of Division Leap.
What is your role at Boo-Hooray and what does Boo-Hooray specialize in?
I run all day-to-day operations: cataloguing rare books, ephemera, and collections; organizing catalogues, shortlists, and exhibitions; working closely with existing and new clients; managing shipping; invoicing; and handling sales from our webstore and other platforms. Boo-Hooray is dedicated to 20th- and 21st-century cultural movements, specializing in ephemera, photography, and book arts. We place artists' and organizations' archives with universities and museums, publish and sell rare books, photography, ephemera, and art, and stage exhibitions all over the world.
Please also tell us about your work with Fugitive Materials. When did you start Fugitive Materials? What do you specialize in?
Fugitive Materials is committed to preserving radical, lesser-known, and alternative histories, and to the disruption of informational privilege through publishing, bookselling, and archiving. We specialize in the material cultures of resistance: the detritus of radical social  movements, histories of labor, counterculture, pedagogy, urbanism, uprisings, and art -- with a specific concentration on opposition to the carceral state, and the intersections of art and activism. We also focus on histories of anti-colonialism, protest, and criminality in Latin America, Africa and the Middle East.
Fugitive Materials started in 2020 and we have been thrilled to work with universities, museums, and private clients around the world to help build collections with artifacts and ephemera documenting non-Western, alternative, radical, and lesser-known histories.
What do you love about the book trade?
Unending opportunities to learn, and chances to share enthusiasm and knowledge with others.
Describe a typical day for you:
I usually check emails with coffee, then ideally I put the digital away and read for a bit before setting to work. Usually, I'll spend my day cataloguing or editing, preparing upcoming shortlists, catalogues, or other publications, and corresponding directly with clients. I also work on lists which are planned for farther in the future; this can include scouting the inventory or searching the wild to build out one of themed catalogues. Some days, I get deep in the weeds researching or writing about just one or two items or collections -- that deep study, though perhaps not the most economical use of my time, is one of the great joys of my work.
Favorite rare book (or ephemera) that you've handled?
A favorite is hard to choose, as I've handled so much rare and beautiful ephemera, photography, and art -- as well as unique artists' books, manuscripts, and working drafts of immense cultural importance.
What sticks with me right now is the papers of an Attica corrections officer, including the documents being circulated just a few months after the uprising which include attacks on Corrections Commissioner George Oswald and a contract agreeing that the officers would rather die than be used as bargaining chips in the event of another riot. It's truly an extraordinary glimpse into the internal propaganda being circulated amongst these violent wielders of state power at an especially threatening moment for them. 
What do you personally collect?
I consider myself a conduit -- one step along the way before materials find their home. That being said, there are some items I hold onto longer: I'm deeply interested in exploring the organized and militant Left, and other activists in industrial and post-industrial cultures, and am frequently studying their histories in search of lessons for today. I'm also constantly building collections that will eventually find their final refuge elsewhere.
What do you like to do outside of work?
In my limited free hours these days, I primarily read, and spend time with friends and family. I still bike, and I enjoy going to the movies, museums and art galleries. I also have done some mutual aid work and political organizing in New York; time can be difficult to find at the moment, but I hope to step that back up moving forward, given the urgency of current struggles.
Thoughts on the present state of the rare book trade?
I'm enlivened by the curators and librarians (and booksellers) who are pushing the boundaries of institutional collections -- as well as the growing base of private collectors interested in documenting and preserving the lesser-known microhistories of alternative and non-Western cultures. The growing collections of queer, Black, Brown, and Indigenous histories make me hopeful for the future.
Any upcoming fairs or catalogues?
Always! 
In the last few weeks, Fugitive Materials released three zines -- Chinatown Needs Housing Not Jail about the 1982 protests against the New York jail expansion under Mayor Ed Koch; Work Is Hell...Let's Go To War!, reproducing Situationist inspired anti-Gulf War posters, and The CCNY Student Strike of 1949, gathering documentation and reporting from this early, important, and under-documented student strike at the City College of New York.
Fugitive Materials will also be releasing two books this fall, including War Notes, a limited edition photobook gathering the portraits and stories of Ukrainian people during the Russian invasion this year, captured by the Pulitzer Prize-nominated photojournalist Cheney Orr (my brother). We're also releasing a new catalogue this fall, gathering books, periodicals, artwork, and ephemera relating to prison uprisings and anti-carceral protests.
At Boo-Hooray, we are working on several projects: a catalog of rare jazz artifacts including fliers, posters and printer proofs from Sun Ra and others; a Fluxus and Yoko Ono catalogue; a catalogue exploring what is and isn't an artists' book, and several more that I can't yet mention.