Victor Gulotta Rare American Colonial Manuscript Collection to Auction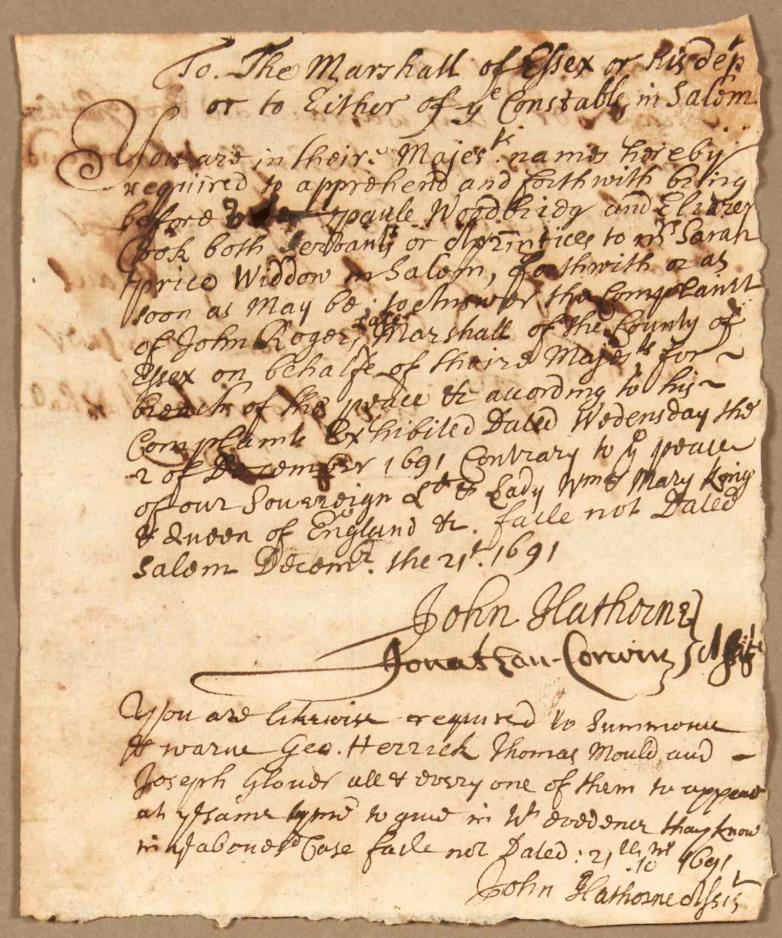 Doyle
A curated collection of 17th and 18th century manuscripts documenting life in colonial New England will be featured at Doyle Auction's November 7 sale of rare books, autographs, and maps.
Handwritten material originating from first and second generation settlers at Plymouth and the nearby Massachusetts Bay Colonies is the focus of the collection, which was amassed over a period of a decade by Boston-area collector and literary publicist Victor Gulotta.  
"The documents within this collection offer interesting, inspiring, and unusual episodes of 17th century New England using the 1692 Salem witch trials as their lens," said Peter Costanzo, Doyle senior vice president/ executive director, books, autographs, and photographs. "This disturbing event provided a bookend to the Pilgrim Century that had begun with the arrival of the Mayflower in the winter of 1620. From the outside in, the collection contextualizes the period by including documents signed by King James II, Samuel Pepys, and other influential figures in England in whose politics and religion the seeds of Puritanism and separatism were sown."
Highlights include:
* A document from 1692, signed by William Bradford Jr. (1624-1703), son of Mayflower passenger William Bradford, second governor of Plymouth Colony. Bradford Jr. succeeded Myles Standish as the chief military man in the colony.
* A document from 1668 signed by Richard Bellingham, three-time governor of Massachusetts Bay Colony. In 1637, Bellingham was one of the magistrates who helped convict religious dissenter Anne Hutchinson and voted for her to be banished from the colony. Bellingham also figures in Nathanial Hawthorne's The Scarlet Letter.
* A very rare manuscript deposition, involving an attempted divorce in Boston in 1656, one of about 20 such known cases in colonial New England.
* An original arrest warrant, December 1691, signed by three leading figures from the Salem witch trials: John Hathorne, Jonathan Corwin, and George Herrick. Penned just weeks before the initial interrogations of the "witches."
"In my pursuit of the earliest obtainable manuscripts from colonial Massachusetts, I have always insisted on acquiring only those signed by historically significant personages," said Victor Gulotta.  "As formidable a task as that has been, I managed to secure documents by such major figures as John Endecott, Daniel Gookin, Thomas Danforth, William Stoughton, Edmund Andros, and Simon Bradstreet. Direct descendants of Anne Hutchinson and John Alden are represented in the collection, as is one of my favorite personalities of the period, Samuel Sewall. Besides being the only judge to publicly apologize for his role in the Salem witch trials, Sewall was the author of The Selling of Joseph (1700), the first antislavery pamphlet published in North America."