Rare Judaica, Nuremberg Chronicle, Atomic Aftermath Photos: Auction Preview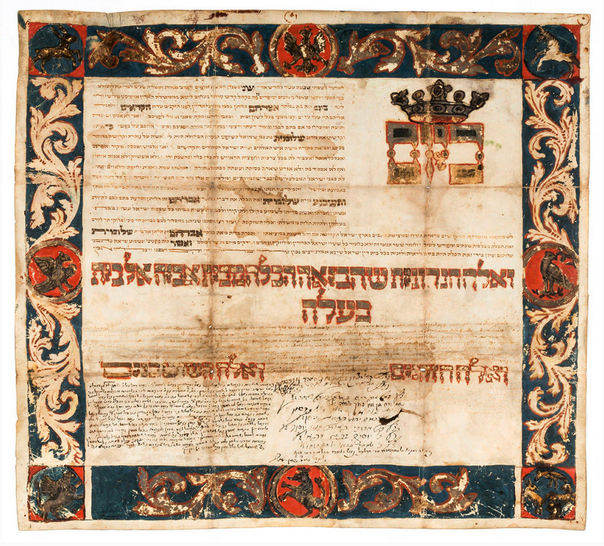 Image: Kedem Auctions
At Bonhams Skinner on Tuesday, October 31, 41 lots of Fine Books & Rare Manuscripts, including a German copy of the Nuremberg Chronicle (1493), expected to sell for $50,000–75,000; and John Ledyard's Journal of Captain Cook's Last Voyage (1783), with the complete map, also estimated at $50,000–75,000. A subscriber's copy of the first octavo edition of Audubon's Birds of America (1840–1844) with the American Flamingo plate missing could fetch $25,000–35,000.
Kedem Auctions sells Important Items from the Gross Family Collection (93 lots) and Rare and Important Items (83 lots) on Tuesday. Among the manuscript and printed items in the former sale are an 1849 illuminated ketubah documenting a marriage in Istanbul ($30,000–40,000); a 1790 ketubah from Cochin, one of the earliest known from that region ($30,000–35,000); a 1750 ketubah from the Karaite community in what is now Troki, Lithuania ($25,000–35,000); and a pair of Sukkah papercuts from the middle part of the nineteenth century ($20,000–25,000).
The second Kedem sale will include a nineteenth-century miniature Torah scroll from Germany, expected to sell for $80,000–120,000; a copy of Rabbeinu Yonah of Gerondi's Shaarei Teshuvah (Fano, 1504), estimated at $80,000–100,000; and a first edition of the Sefer HaKuzari (Fano, 1506), which could sell in the same range.
Ending on Wednesday, November 1, Fine Books & Rare Manuscripts online at Bonhams Skinner; the 292 lots include the 35-volume Definitive Edition of The Writings of Mark Twain (1922–23), estimated at $8,000–12,000; a bound volume of issues of William Lloyd Garrison's The Liberator, expected to fetch $5,000–7,000; and quite a range of other material.
At PBA Galleries on Thursday, November 2, 469 lots of Americana – Travel & Exploration – Maps, Prints & Views. Thirteen photographs taken by Yosuke Yamahata of Nagasaki the day after the atomic bomb was dropped are estimated at $10,000–15,000; a nearly-complete set of the Report of the Geological Expedition of the Fortieth Parallel (1870–1880) could sell for $8,000–12,000.