News
|
September 16, 2021
Turing Letter is Top Lot at Bonhams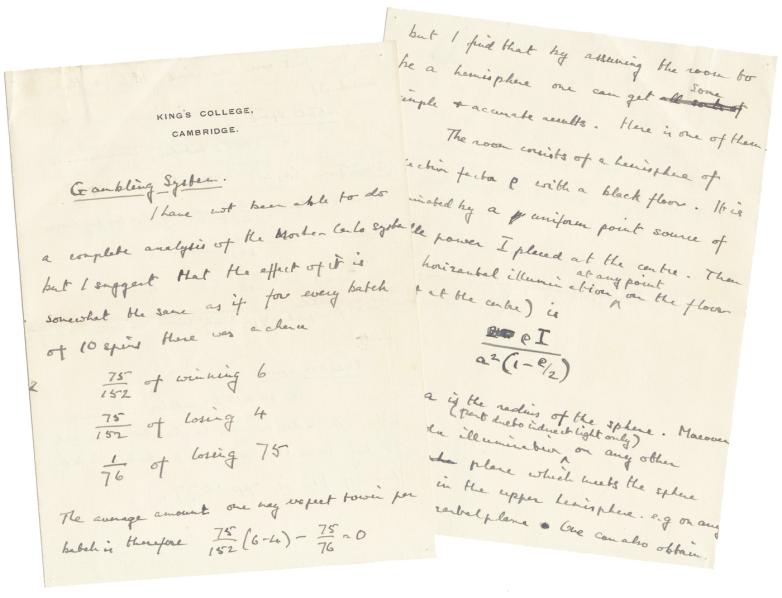 Courtesy of Bonhams
London — On Wednesday September 15 at Bonhams Knightsbridge the Fine Books and Manuscripts Sale achieved phenomenal results. The 117-lot sale made a total of £754,241 selling by lot 91% and by value 98%.
The top lot in the sale was an unpublished letter written by Alan Turing analysing his friend Alfred Beuttell's 'Monte Carlo system' which sold for £94,000 against an estimate of £30,000-50,000.  
As a young man the British inventor Alfred Beuttell made a fortune from patenting the Linolite electric strip reflector lamp – more commonly known as strip lighting. He led the life of a wealthy bachelor – flying, motor racing, sailing and gambling. He even devised his own gambling system, living at Monte Carlo for a month on his winnings, it is said. In later life, his gambling years behind him, Alfred gave a copy of his 'Monte Carlo system' to a former school friend of his son Victor and asked him for his opinion. The friend was Alan Turing, then an undergraduate at King's College, Cambridge.
Turing is typical thorough in his analysis of the 'Monte Carlo system', though there is an element of tongue in cheek in his application of mathematics and equations to an essentially light-hearted subject. He concludes that the more one played, the probability of losing increased.  Or as he puts it in the letter, "...for short runs one most probably wins or else one loses an unexpectedly large sum. As the length of run is increased the chances of winning becomes more remote...". Alfred's success it would seem owed more to luck than judgement.
Bonhams Head of Books and Manuscripts, Matthew Haley, said: "We are all truly thrilled with the results of today's sale. From a 3-volume collection of first edition Lord of the Rings books selling for three times their low estimate, to Abraham Ortelius's Theatrum orbis terrarium, which doubled its low estimate, there were fantastic results across the board. I am particularly happy with the sale of Alan Turing's unpublished letter speaking on the 'Monte-Carlo system'. The letter shows a side to Turing not often portrayed in the media today - amusing, supportive and self-deprecating - yet also emphasises his fascination with probability, and its application to cryptology. This was, of course, the key to his decryption work at Bletchley Park for which he is known and rightly regarded as a national hero."
Other highlights from the sale:
    •    The great Chinese leader and political philosopher Sun Yat-sen has the rare distinction of being revered both in the People's Republic of China and in the Republic of China (Taiwan). Known as the Forerunner of the Revolution in the former and Father of the Nation in the latter, Sun Yat-sen (1866-1925) played a pivotal role in the overthrow of the Qing dynasty in 1911 and the ensuing power struggles between rival factions. In the process he experienced years of constant struggle both in and out of China, from which he was frequently exiled. Two rare handwritten letters in English from Sun Yat-sen to his closest European friends and allies James and Mabel Cantlie, Dated 'November 1911' and 'March 1914', sold for £44,000 and £31,000 respectively.
 
    •    Ortelius (Abraham) Theatrum orbis terrarium, 2 parts in 1 vol. (including Synonymia), Antwerp, A.C. van Diest 1574 sold for £69,000
 
    •    Schedel (Hartmann) Liber chronicarum, First Edition, Nuremberg, Anton Koberger, 12 July 1493. Sold for £60,250
 
    •    Tolkein (J.R.R) The Lord of the Rings, 3 vol. First edition, First Impressions, George Allen and Unwin, 1954-1955. Sold for £37,750